Nigeria militant's brother charged at 'secret hearing'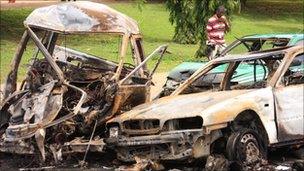 Charles Okah, brother of Nigerian oil militant Henry Okah, has been charged at a secret hearing in the capital.
He was arrested last weekend on suspicion of aiding two deadly car bombings during celebrations of the 50th anniversary of independence.
The BBC's Chris Ewokor in the capital, Abuja, says the defence lawyer was barred from the court proceedings.
Henry Okah was detained in South Africa after the blasts on 1 October and is facing terrorism charges.
Several other suspects, including Charles Okah's son Boloebi, were also escorted into the Abuja courtroom on Thursday morning.
Our reporter says lawyers and journalists had expected to be able to attend the hearing.
But all of a sudden, security agents blocked the entrance of the courtroom and would not allow anyone inside, he says.
"We were barred from entering the court premises by operatives of the State Security Services," Charles Okah's lawyer Ogheneovo Otemu told the BBC.
"The accused persons were arraigned before the court and they were not allowed to be represented by counsels of their choice, which is a very serious constitutional breach," he said.
Our correspondent says it is not yet clear if they entered any plea while in court, but the charge sheet showed they are being accused of engaging in criminal conspiracy to commit a felony and a crime bordering on murder - punishable by life imprisonment.
After a 15-minute hearing, the suspects emerged from the courtroom, closely guarded by security agents, he says,
They were not allowed to speak to anyone, not even their lawyers, as they were hurriedly bundled back into the vehicles and driven away.
The men are due back in court on 24 November.
Henry Okah previously led militants from the Movement for the Emancipation of the Niger Delta (Mend), who say oil wealth must be used to benefit local residents.
The group he now leads is believed to have split from the main Mend group, which signed an agreement with the government in 2009 to end years of unrest in the oil-producing Niger Delta region.
Related Internet Links
The BBC is not responsible for the content of external sites.