Sudan mine blast man Stephen Allan 'was hero'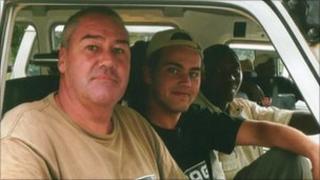 The family of a man killed by a landmine in Sudan have described him as "a real life action hero".
Stephen Allan was clearing mines near the town of Kapoeta when he was critically injured last Friday.
The 52-year-old from Portsmouth was working for the humanitarian organisation Mines Advisory Group (MAG) when he died.
His wife said he had been her "hero" and was a man who "commanded friendship and respect".
During fighting in Kapoeta a huge barrier minefield was laid around the town, according to the Mines Advisory Board.
Mr Allan, who was known as Darby, had served as a Royal Navy Explosive Ordnance Disposal expert for more than 30 years before starting work for MAG in 2006.
His wife, Karen said: "Darby has, from the moment I met him, been my hero.
"To Sarah and David he was not just their father but was an "action hero", a man that made things happen.
"He was a gritty, humorous man who commanded friendship and respect from colleagues and friends, a person who was not just larger than life but was in fact life."
Lou McGrath, MAG's chief executive, said: "Darby was motivated by the positive change he and his team made every day to people in the communities where he worked.
"He took pride in reducing the risks communities faced and that his work would allow them to develop their futures in more safety."
A UN-led investigation into the circumstances surrounding his death was under way, the advisory group said.