Mugabe hijacks Big Brother frenzy 'for political gain'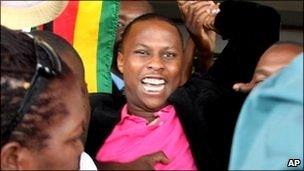 Political analysts have criticised Zimbabwe's President Robert Mugabe for handing over $300,000 (about £191,000) to the runner-up of Big Brother Africa.
Munyaradzi Chidzonga narrowly lost out to a Nigerian contestant, who won the reality TV show's $200,000 prize money.
A close Mugabe ally started a campaign to raise the $300,000 as many people felt voting on the show was unfair.
Analyst Takura Zhangazha told the BBC Mr Chidzonga's fame had been hijacked for political purposes.
The BBC's Brian Hungwe in Harare says there has been a strong sense of injustice amongst Zimbabweans that their Big Brother housemate was robbed of final victory in the final of the Mnet show on Sunday.
He received a hero's welcome at Harare airport on his arrival home on Wednesday and was immediately whisked off to State House, he says.
Later that evening, state television showed footage of Mr Mugabe handing over the $300,000 cheque, a third more than Mr Chidzonga would have got had he won the show in which contestants are voted off by viewers.
"From our point of view, for us, you were the winner," AFP news agency quoted Mr Mugabe as telling the Big Brother runner-up, who later said he was grateful and surprised by the handout.
Mr Zhangazha said it was all part of a Zanu-PF ploy to appeal to young middle-class voters, ahead of elections which could be as early as next year.
"They want to spin Munya's declared admiration of President Mugabe as evidence of the latter's reach to younger Zimbabweans," he said.
"They will use Munya as a mascot at rallies."
His loss has also been spun by Zanu-PF into the anti-sanctions debate, said Mr Zhangazha.
"It is being presented as some anti-Mugabe conspiracy by Mnet and the West."
Mr Mugabe has been sharing power with rival Morgan Tsvangirai under a deal - worked out after disputed 2008 elections - in order to halt their country's economic collapse.
But last week he expressed his frustration about constant wrangling within the coalition government, saying the lifespan of the political accord had reached its end.
Related Internet Links
The BBC is not responsible for the content of external sites.