Rwanda terror charge for opposition's Victoire Ingabire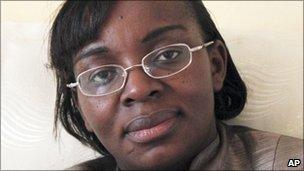 Rwanda's opposition leader Victoire Ingabire has appeared in court accused of working with a terrorist group, after her arrest earlier this month.
Prosecutors said they had more evidence that she colluded with an ex-officer of a Hutu militia to buy and distribute weapons to threaten national security.
Ms Ingabire said the charges were a fabrication and politically motivated.
She returned from exile in January to stand in August's election, but was barred from running.
The Unified Democratic Forces party leader was arrested in April on the same charges - of collaborating with a terrorist group and propagating ethnic division.
She was granted bailed but was rearrested earlier this month after the capture of Major Vital Uwumuremyi, once a senior officer in charge of police affairs for the FDLR Hutu militia.
The authorities say he was caught on 13 October trying to cross over the border into the Democratic Republic of Congo, where the FDLR is based.
In court on Monday, prosecutors said that while Ms Ingabire was on bail, she had continued with terrorist activities.
The BBC's Geoffrey Mutagoma in Kigali says Maj Uwumuremyi appeared as a prosecution witness.
He told the court he had been in communication with Ms Ingabire while she was on bail - and had had dealings with her beforehand.
If she is found guilty of all the charges, she is likely to get a life sentence, our reporter says.
Ms Ingabire is a Hutu and most of the 800,000 people killed in the 1994 conflict were ethnic Tutsis.
President Paul Kagame, the former rebel leader whose Tutsi-dominated Rwandan Patriotic Front (RPF) put an end to the genocide, won a second term in office in August with 93% of the vote.
The court in Kigali is due to decide on Tuesday whether Ms Ingabire should be granted bail.
Related Internet Links
The BBC is not responsible for the content of external sites.