Nigeria fraud blacklist issued by police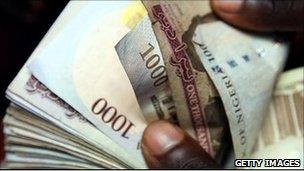 Senior politicians and businessmen are among more than 100 people listed by Nigerian anti-fraud police as being unsuitable to run for political office.
The EFCC (Economic and Financial Crimes Commission) said those on the list were all being prosecuted for corruption.
The commission urged political parties not to endorse them as candidates in next year's elections.
One of those named, Orji Kalu, is running for president but has been arraigned on 107 counts of fraud.
He is accused of involvement in a fraud worth 5bn naira (£21m; $33m).
Thirteen are former state governors, five are former ministers, three are serving MPs, and two are serving senators.
The BBC's Caroline Duffield, in Lagos, says fraud charges are no barrier to standing in elections, and some of those named are already campaigning.
But EFCC officials say that they believe those facing prosecution should not be endorsed as candidates.
The commission is appealing to political parties to select only "credible candidates" and not those on the list.
The EFCC says many of the defendants are deliberately stalling their cases in court so that they will not be tried before the elections next year.
Related Internet Links
The BBC is not responsible for the content of external sites.