Zimbabwe: A gathering political storm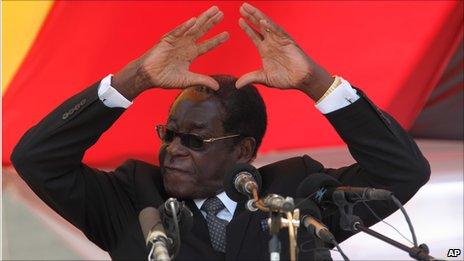 The thorny issue of sanctions and new evidence of political intimidation herald more troubled times for Zimbabwe, reports the BBC's southern Africa correspondent Karen Allen.
In the south of the capital, Harare, lies the main industrial area, but it is a dusty shadow of its former self.
In the 1990s it was bristling with activity. Now, just a handful of factories remain and men come to the gates in search of work every day, then return home disappointed and hungry.
"I've been here about two years, moving around different industries. You know there's nepotism," says one man who, like 80% of adult Zimbabweans, is learning that unemployment is a way of life.
With that backdrop, it is hard to believe, but the economic position has improved in Zimbabwe. Since Zanu-PF and the Movement for Democratic Change (MDC) were thrown together in an awkward political marriage, things have started to look up - just a little.
The "dollarisation" of the currency has offered much-needed stability, there are not the queues there once were outside the banks, and consumer goods are back on the shelves.
Much of the credit has gone to Zimbabwe's finance minister, Tendai Biti, of the MDC, who has predicted staggering growth rates of 8.1%.
But apart from in the minerals sector - where firms have clamoured to get their hands on Zimbabwe's valuable platinum and diamonds - there has been little foreign investment.
The reason trumpeted from Harare is sanctions. They are scaring people off, and they also prevent vital spare parts coming through to factories, Zanu-PF officials say. But could they be doing even more damage than inconveniencing a struggling economy?
Sanctions - a political tool?
According to mediators led by South Africa, pleading with both sides in a shaky unity government to deliver on the outstanding reforms contained in a power-sharing deal, sanctions are blocking any prospect of free and fair elections in Zimbabwe.
What they really mean is that the presence of sanctions is being used as a political tool. A justification for stalling, obfuscating and reneging on commitments to give Zimbabweans the real prospect of a democratic future.
By January next year, the European Union will have to consider the unthinkable - and perhaps lift the restrictions on 200 allies of President Robert Mugabe and his Zanu-PF party and on a handful of state enterprises used to bankroll the party.
"It's important that parties stick to the agreement, but there are still a number of hurdles to be overcome before we are there," says the EU representative on Zimbabwe, Christian Leffler.
The outstanding issues remain the continued refusal to allow Roy Bennett, a white former farmer turned MP, to take up his ministerial post, and the entrenched positions of the central bank governor and the attorney general, who have both retained their jobs.
But the real concern for the EU is whether Zimbabwe is equipped to hold free and fair elections.
Though sanctions directed at Zimbabweans are targeted - not the broad economic sanctions that were used against South Africa during the apartheid regime - they serve to taint the entire economy, according to critics, who say Zimbabwean businessmen struggle to secure loans from international institutions.
But the fear that thawing the assets of those targeted by sanctions would open the door to further political patronage and violence is one of the key reasons the EU continues to enforce them.
It is looking for real political commitment, including the honouring of promises to secure a new constitution, before it will give any ground.
Meanwhile, Mr Mugabe uses the presence of sanctions for political leverage, and to justify not implementing the reform package in full. In recent weeks he has upped the ante, calling for elections as soon as the power sharing deal expires in February 2011. Under the terms of the deal, a new constitution must be in place before elections can go ahead.
It may be sabre rattling more than raw reality, but either way Zimbabwe is now facing what Ibbo Mandaza from the Southern African Economic Trust describes as "a gathering storm" - two parties that at times are barely on speaking terms, and the prospect of more political violence.
An election date may still be on the horizon, but already it feels like the campaigning has begun. As Zimbabweans are urged to join public meetings to discuss a new constitution, alarming evidence is emerging of violence and intimidation.
The BBC spoke to two women who were beaten on 19 September, during a meeting in the Harare township of Mbarare. Both women were so badly injured that they were hospitalised.
"They came to me, they pushed me, then they beat me until I lost consciousness," explains one of them. Another woman spoke of being hit over the head with a brick. She now sleeps with a rope dangling out of the front of her upstairs window - her escape route if the militia comes to visit her at home.
These were just two cases, but the BBC has been given a dossier of more than 80 incidents at similar public meetings.
Now a coalition of non-government organisations and Zimbabwean lawyers have published further evidence in a report laying bare their concerns. They cite more than a thousand "violations" during a 13-day period of public debate. They include the use of hate speech, intimidation and the deployment of security agents at venues.
For the authors, the meetings no longer have anything to do with a new constitution, but instead are a proxy battleground between Zanu-PF and Morgan Tsvangirai's MDC.
The allegations of violence are being played down by Zanu-PF Chairman Simon Khaya Moyo, who blames the MDC for "signing off" the meetings as having gone well.
His words betray a level of impotence that is now casting a shadow over the MDC. Mr Tsvangarai, in his strongest statement yet, recently expressed his "utter disgust" at President Mugabe's unilateral appointments of governors and ambassadors - but he can do nothing about it, except appeal to the international community to object.
He is frustrated by the heel-dragging over implementing the unity deal, but stymied by the fact that his party has failed to secure the lifting of sanctions.
And the rhetoric of Mr Mugabe over elections being held sooner rather than later has only served to leave many Zimbabweans feeling dismayed.
"We don't have a voters' roll that is credible, we haven't had a constitutional outreach that is credible, and there is still the issue of security," laments sociologist Rudo Gaidzanwa, from the University of Zimbabwe.
Back in August, the parties in the Zimbabwean government were given a 30-day ultimatum by South African mediators to deliver on the political agreement in full.
That ultimatum has now expired, and there has been no comeback for the country's political leaders. Are Zimbabweans surprised, or just bracing themselves for the road ahead?
Related Internet Links
The BBC is not responsible for the content of external sites.