Somali Islamists al-Shabab 'execute two young women'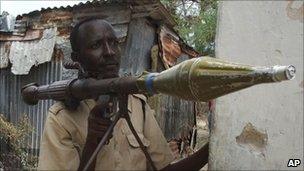 Two young women have been publicly executed by Somali Islamist group al-Shabab, reports say.
They were said to have been shot by a firing squad in the city of Beledweyne.
The pair, reportedly teenagers, were sentenced to death on Wednesday after being accused of spying, but a relative insisted they were innocent.
Somalia has had no functioning government since 1991. The al-Qaeda-linked group al-Shabab and its allies control much of the country's south.
The two young women were named by AP news agency as 18-year-old Ayan Mohamed Jama and 15-year-old Huriyo Ibrahim - though other reports suggest they may have been older.
Al-Shabab militiamen walked through the town's streets, telling residents about the executions by loudspeaker and ordering everyone to attend, reports the agency.
The militia group's regional commander, Sheikh Yusuf Ali Ugas, said the two had been found guilty of spying and being what he described as "enemies of Islam".
But Ayan Mohamed's aunt told a local radio station that they were not guilty.
"How can young school girls be spies for a government or Western countries, that is a very surprising matter," she said.
"These militants are doing whatever they want, we don't know what to do and where to run."
A woman who witnessed the execution, Sadia Osman, also said one of the young women had said she was innocent of the charges, AP reported.
Another eyewitness described how people in the crowd were shocked by the sight of the killings.
"One of the women who saw the execution today collapsed and lost consciousness after she saw the cruel way the girls were shot," Da'ud Ahmed said.
Somalia's UN-backed government authority only controls parts of Mogadishu and a few other areas, although it has been gaining ground from al-Shabab in recent weeks.