Guinea election hopeful cancels tour with rival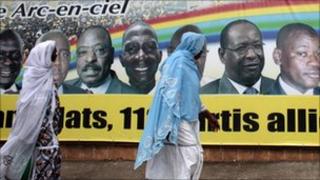 One of the two rival candidates in Guinea's much-delayed presidential election run-off has pulled out of a scheduled joint tour of the country.
The tour aimed to ease tensions between their followers ahead of the vote.
A spokesman for Alpha Conde said that his supporters had opposed him travelling to the areas affected by violence with his opponent.
The much-delayed run-off is now scheduled for 7 November.
The joint tour by Mr Conde and his rival, Cellou Dalein Diallo, was announced on Wednesday to help restore a climate of peace before the vote.
'A set-up'
"The professor [Alpha Conde] wanted to go, but the crowd came to his home. It is his base that is against this tour," Francois Lonseny Fall, spokesman for the pro-Conde Rainbow alliance, said according to AFP news agency.
Hundreds of Conde's supporters gathered around his home in Conakry shouting "He is going nowhere" and "It is a set-up to eliminate him", the agency reported.
Mr Diallo told AFP he was "disappointed".
The build up to the run-off has been marred by violent incidents between rival supporters of the two men.
The run-off had been scheduled for this weekend, but election chief Gen Toumany Sangare said it had to be postponed because of logistical problems.
The military seized power in 2008 after the death of long-time strongman leader Lansana Conte, but army rule led to more political upheaval and the soldiers eventually agreed to transfer power back to civilians.