Somali mayor leads fight against pirates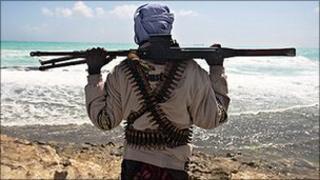 The mayor of a small town on the northern coast of Somalia has mobilised local people to tackle pirates who have infested the nearby seas.
"We decided from the very beginning to fight these pirates because they are awfully terrible people," Mayor Said Adan Ali told the BBC's Outlook's programme.
"We are a simple fishing community and we are prepared to defend our fishing community.
"That is why we are determined to fight off and tackle these pirates."
The northern coast of Somalia has become a hotspot for pirate attacks in recent years, leading the world's navies to send up to 30 warships to patrol the Gulf of Aden and the Indian Ocean to ward off attacks on commercial shipping.
But they struggle to combat the problem, with so many pirate gangs spread across an area the size of western Europe.
Although figures vary, some reports say pirates are currently holding 26 vessels, along with 486 crew.
British couple Paul and Rachel Chandler were recently released after more than a year in the hands of Somali pirates.
Outnumbered
But with Mayor Ali's help, residents of Bandar Beyla recently fought off two attempted hijackings of fishing vessels in nearby waters.
In one incident, he says, 70 people set off in nine boats to tackle the pirates.
"About 30 Yemeni fishermen were up against three pirates," he explained.
"We rushed to the area and decided to tackle the pirates. They were armed but we were also armed.
"We fought and shot at them and we chased them from the area but they took off in speed boats and escaped."
This is the second recent success the anti-piracy campaigners have had, according to the mayor.
He says that up to 52 Yemeni fishermen were saved on the two occasions.
Mayor Ali also said no-one was injured in the clashes despite gunfire being exchanged.
Reprisal fears
Somalia has not had an effective central government and no navy to protect its territorial waters for almost two decades.
For most of this time, the country has been at war and piracy has now become an attractive way of making money, with ransom payments reaching tens of millions of dollars.
Mayor Ali spent most of his life in Australia, but said he decided to return to his homeland "to help his community".
"When I was in Australia I heard about this piracy problem, many times," he explained.
"When I came back my people elected me and they promised to stand shoulder to shoulder with me in order to fight off these pirates and to bring peace and stability to our area."
Despite their recent fightback against the pirates, the mayor says he does not fear any reprisals.
"I'm not afraid," he said. "I came to a country with problems and troubles and I wanted to help my people. For this I have a lot of support."