Nigeria's Mend militants claim oil pipeline attack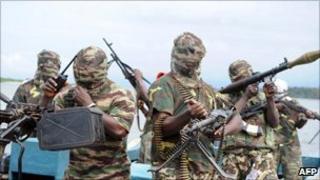 The Nigerian militant group Mend has said it was behind a weekend attack on an oil pipeline feeding a big refinery.
The Nigerian National Petroleum Corporation (NNPC) has confirmed the attack by armed militants on its Warri-Escravos pipeline in the Niger Delta.
Violence in the oil-rich Delta region had subsided over the last year following a ceasefire agreement giving amnesty to militants.
But a small faction of Mend has recently resumed kidnappings and raids.
The Movement for the Emancipation of the Niger Delta (Mend) says it is fighting so that more of Nigeria's massive oil wealth is used to benefit the Niger Delta area which produces the oil.
But criminal gangs have taken advantage of the region's instability to make money from ransoms paid by oil companies, and stealing oil.
'Warning'
"This attack and similar attacks on pipelines which will take place within the next few days is a reminder to the Nigerian government of the futility of wasting the nation's resources in combating militancy without addressing the underlying causes of agitation in the Niger Delta," Mend said in an e-mail to journalists.
It is believed that a breakaway faction is behind the twin car bombings which killed 12 people during a celebration of Nigeria's 50 years of independence last month.
Over the weekend, the army said it had arrested 63 militants in connection with the recent kidnapping of 19 oil workers.
The hostages - including US, Canadian, French, Indonesian and Nigerian nationals - were rescued last Wednesday.
The operation was the first successful rescue of foreign captives in the Delta without any of the hostages being killed in the process.
In the past, militants have cut Nigeria's oil production by one-third, causing a spike in global oil prices.
The government and many oil militants reached a ceasefire deal last year in exchange for cash payouts and job training.
Nigeria is one of the world's biggest oil producers - averaging around 2.2m barrels per day in the Niger Delta.