Blaise Compaore re-elected in Burkina Faso landslide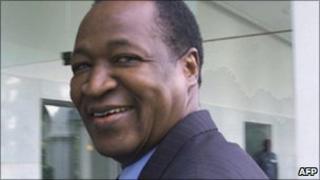 Burkina Faso President Blaise Compaore has been re-elected to lead the gold-producing country in a landslide victory.
Provisional results show that Mr Compaore, who seized power in a bloody coup, won the vote by 80%.
But opposition leaders are calling for the vote to be invalidated claiming it was rigged in Mr Compaore's favour.
Mr Compaore, a former army captain, took power in 1987 after a hit squad gunned down the former president.
On Thursday, a judge ruled that some of the voter cards were "illegal" following a law suit last week which challenged certain aspects of the election.
"The cards were not in conformity with the electoral code," AFP news agency quotes Judge Rene Bagoro as saying.
Opposition parties said the voting cards had allowed ineligible people to vote. They have 48 hours from the time the results are released to file a complaint.