Morocco accused of abusing Western Sahara detainees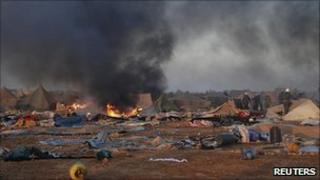 Moroccan officials have been accused of repeatedly abusing people detained after clashes in Western Sahara by the campaign group Human Rights Watch.
The group said security forces had deliberately targeted civilians in the raid on a protest camp in the disputed territory earlier this month.
At least 12 people were killed in the raid and hundreds injured.
Morocco has not commented on the HRW report but has previously defended the police, saying they acted peacefully.
Troops moved in to shut down the Gadaym Izik camp - outside the regional capital Laayoune - on 8 November.
The camp had been set up by some 20,000 Sahrawis, as a protest against poor living conditions and lack of jobs in the territory.
At least 12 people were killed in the violence which followed the raid. Officials say most of them were members of the security forces.
HRW said its own investigations found that security forces had directly attacked civilians in the camp and then joined with Moroccan civilians in carrying out retaliatory attacks on Sahrawi homes in Laayoune and in preventing some injured people from getting medical care.
It said hundreds of people had been arrested and more than 100 remained in custody.
'Rape threats'
HRW said it had interviewed seven released Sahrawis, all of whom had severe bruising or other injuries.
It said they had all alleged that they had been abused in custody. In some cases, they said they had been beaten until they lost consciousness, had urine thrown at them or were threatened with rape.
Lawyers representing those still in custody told HRW one detainee had allegedly been raped while others had also complained of beatings and abuse.
The group called on Morocco to end the abuse of detainees immediately and to carry out an independent investigation into the allegations.
"The security forces have the right to use proportionate force to prevent violence and protect human life, but nothing can justify beating people in custody unconscious," said HRW's Middle East and North Africa director, Sarah Leah Whitson.
Morocco's Interior Minister Taieb Cherkaoui said earlier this month that the police intervention had been peaceful and accused the protesters of using knives and petrol bombs against security forces.
The violence at the camp came on the eve of UN-mediated talks in the United States to try to find a way out of one of Africa's longest-running territorial dispute.
Morocco annexed Western Sahara after Spanish settlers pulled out in 1975.
The Polisario Front founded the Sahrawi Arab Democratic Republic (SADR) and waged a guerrilla war against Moroccan troops until a UN-brokered ceasefire in 1991.
Morocco is offering to grant Western Sahara autonomy, but Polisario is demanding a referendum on full independence.