Ivory Coast votes in presidential election run-off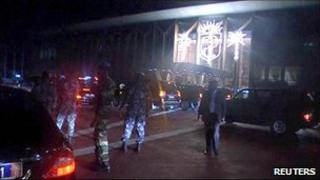 People in the Ivory Coast have been voting in a presidential election run-off, as the nation tries to end a decade of division and instability.
A close race is forecast between President Laurent Gbagbo and opposition candidate Alassane Ouattara.
The election is intended to reunite the country which split in two following a northern rebellion in 2002.
A night-time curfew has been imposed and will run until Wednesday, following a campaign beset by violence.
At least three people were shot dead in Abidjan on Saturday during protests against the curfew. Supporters of the opposition say the curfew could open the door to electoral fraud.
The military has appealed for calm.
Additional security forces have been deployed around the country and both Mr Gbagbo and Mr Ouattara have appealed for a peaceful vote.
Polling stations opened at 0700 GMT and closed at 1700 GMT, with 5.7 million people eligible to vote.
Long queues were reported in Abidjan while some stations opened late as the curfew prevented ballot officials from arriving on time.
Mr Gbagbo said he had received reports of "irregularities" in some parts of the country, but was was confident the election would be a success.
"We have a lot of hope we will overcome all these irregularities to put in place a veritable democracy," he told reporters.
'Illegal'
Yves Doumbia, a spokesman for the mayor in Abidjan's Abobo neighbourhood, said the three people killed on Saturday died when police opened fire on a crowd which had become unmanageable.
"The police used tear gas and fired live rounds at a crowd, killing three and wounding seven," he told Reuters news agency.
The curfew was announced after earlier clashes in and around Abidjan, the commercial capital, in which at least four people were killed and dozens injured.
Mr Ouattara said the curfew was illegal and unconstitutional, arguing it should only come after the election if there was trouble.
No candidate received more than 50% of the vote in the first round four weeks ago, leaving the two front runners to go head to head.
The result is expected to be extremely close, says the BBC's John James in Abidjan - testament to the fact these are the first open democratic elections the country has seen in 50 years since independence.
The two candidates left in the race represent the two sides of the north-south divide that exists religiously, culturally and administratively, our correspondent says, with the northern half still controlled in part by the soldiers who took part in the 2002 rebellion.
The elections have been cancelled six times in the past five years.