Kenya crackdown in Nairobi's Somali Eastleigh suburb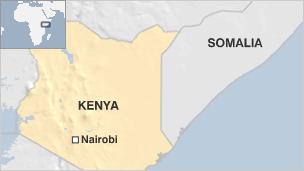 Police in Kenya have carried out mass arrests in Nairobi's Eastleigh suburb - an area mostly populated by Somalis.
Officials said 346 people were arrested - the bulk of whom were Somalis and Ethiopians. More than 160 were later charged with immigration offences.
Observers suggested that the arrests were in response to a grenade attack in the Eastleigh area last Friday in which a policeman was killed.
But police said the raids were part of an effort to find illegal immigrants.
The BBC's Will Ross, in Nairobi, says the arrests appeared to be indiscriminate.
People were picked up on the streets, from restaurants, hotels and from their homes and were then forced on to police trucks.
Officials said 346 people were held in an operation they described as a routine search for illegal immigrants.
Many of those arrested said they were Kenyan citizens; they were told to return to court on Tuesday with their identity papers.
The Eastleigh suburb is subject to frequent police crackdowns.
Our correspondent says the arrests hardly rated a mention in the local press, suggesting that there is little sympathy.
One Kenyan man complained to the BBC that he had been due to sit a university exam on Monday morning and had been arrested despite the fact that he was carrying his identification card.
A police officer was killed in Eastleigh on Saturday in a grenade attack.
Police officials ruled out the involvement of Islamist militants in the attack and denied that the arrests were linked to the incident.