Ivory Coast deadlock: Food shortages and price rises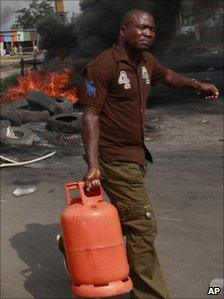 There are shortages of basic goods in Ivory Coast while the price of others has risen, as the deadlock continues over last month's election.
Meat, fish, petrol and cooking gas are running short, with many warehouses closed because of security fears.
Ivory Coast is the world's largest cocoa producer and prices have hit a four-month high this week.
West African regional bloc Ecowas has called on incumbent President Laurent Gbagbo to "yield power without delay".
The 15-nation body also said it had agreed to suspend Ivory Coast from all its activities, after an emergency summit in the Nigerian capital, Abuja.
"The heads of state and government recognised Mr Alassane Dramane Ouattara as president-elect of Ivory Coast," a communique said.
"The summit called on Mr Laurent Gbagbo to abide by the results of the second round of the presidential elections as certified by UNOCI [the UN mission in Ivory Coast]... in the best interests of the Ivorian people."
As tensions mount in the wake of the 28 November poll, the UN is moving its non-essential staff out of the country.
On Monday the African Union mediator, former South African President Thabo Mbeki, left Ivory Coast after two days of talks with the rival sides failed to end the deadlock.
Both Mr Gbagbo and Mr Ouattara have been sworn in as president and have each named cabinets.
The leader of the New Forces rebels is Mr Ouattara's prime minister but the government security forces are loyal to Mr Gbagbo, raising fears of renewed conflict.
Ivory Coast has been divided since a 2002 civil war. It used to be seen as a haven of peace and prosperity in West Africa.
The BBC's John James in the main city Abidjan says the election that was supposed to lead to an Ivorian renaissance is starting to look like a simple extension of the last 10-plus years of political instability.
A survey by the Ivorian Chamber of Commerce and Industry found shortages of meat and fish, while our reporter says it is hard to find bottles of cooking gas.
The price of sugar has apparently tripled in price in some areas, while our reporter says beef and potatoes have risen by 25% and 60% respectively in local markets.
The World Bank and African Development Bank have said Ivory Coast has to resolve its political crisis or face having its aid frozen.
Overseas companies like France Telecom and many of the cocoa exporters have also pulled out non-essential staff.
Some of Mr Ouattara's supporters have staged protests in Abidjan, burning tyres in the streets, while Mr Gbagbo has extended a curfew until 13 December.
As he left, Mr Mbeki said he would report to the African Union.
"[Ivory Coast] needs peace and needs democracy... We indeed hope that the leadership of this country will do all that it can to ensure peace is maintained," he said.
Neither Mr Gbagbo nor Mr Ouattara have been invited to Tuesday's emergency Ecowas meeting in the Nigerian capital, Abuja, to discuss the crisis.
Along with Ecowas, the US and former colonial power France have all said Mr Ouattara won the election.
Initial results issued by the electoral commission gave him a clear victory over Mr Gbagbo.
But the results were later overturned by the country's Constitutional Council, which awarded the victory to the incumbent, annulling a large number of votes from the rebel-held north, where Mr Ouattara is popular.
Earlier, Botswana's President Khama Ian Khama urged African heads of state to strongly condemn what was happening.
He also told the BBC that Mr Gbagbo should step down, saying it was clear a majority of people had voted for Mr Ouattara.
Mr Khama described the situation as a "real tragedy" and urged all African leaders to condemn what was happening.
He also urged the international community not to broker a power-sharing agreement, as it did in Kenya and Zimbabwe.
"Elections there were hijacked by the ruling party and if that's going to happen every time someone wants to dispute an election result and then may stay in power by default through a mechanism of power sharing - it's wrong," he told the BBC's Focus on Africa programme.
The UN continues to have about 10,000 peacekeepers, some of whom are protecting Mr Ouattara and his self-declared government, which is based in an Abidjan hotel.
Several Western countries have also advised their citizens not to travel to the country, while Belgium has said it has deployed special forces personnel to protect its embassy.
Ivory Coast was split in two during a civil war in 2002.
This year's presidential election was the culmination of years of peace talks between the government and the rebel movement which largely controlled the north of the country.
Mr Gbagbo is a southerner and is popular in Abidjan; Mr Ouattara draws most of his support from the north.
Related Internet Links
The BBC is not responsible for the content of external sites.