Somalia embassy in Kenya 'sold illegally'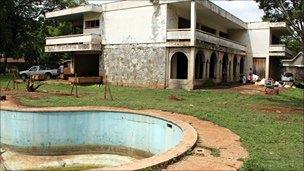 A court in Kenya has ruled that a former Somali embassy building, sold off after the collapse of the Somali government, was illegally sold.
A former Somali ambassador to Kenya is alleged to have sold the property to a Kenyan businessman in 1994.
Shortly after the ruling, the ambassador appointed by the UN-backed administration, Mohamad Ali Noor, led a march to the embassy to reclaim it.
Somalia has been without an effective national government since 1991.
The man who bought the embassy says he will appeal against the ruling.
It follows a five-year legal battle for the property in Nairobi's upmarket Westlands suburb which is valued at $200,000 (£130,000) .
Mr Noor told the BBC that the property had been unoccupied for 15 years.
"It is uninhabitable, so we have to renovate [it]. Then we will move in," he said.
The UN-backed government controls about half the capital, Mogadishu.
It is battling the Islamist militia, al-Shabab, which has links to al-Qaeda.
Related Internet Links
The BBC is not responsible for the content of external sites.