Zambia court clears Regina Chiluba in corruption case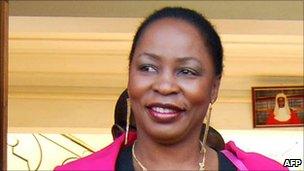 Zambia's high court has overturned the corruption conviction of the wife of the country's former president, Frederick Chiluba.
The judge said the state had failed to show that Regina Chiluba had illegally obtained state funds while her husband was in office.
She was found guilty last year by a lower court of receiving $300,000 (£200,000) of property and money.
It had sentenced her to three-and-an-half years in prison.
Her husband had said the charges were part of a witch hunt against him.
In August, a Zambian court refused to enforce the ruling of a British judge who had ordered Mr Chiluba to pay back $46m he allegedly stole during his 1991 to 2001 presidency.
He was also acquitted of criminal charges stating he had siphoned off nearly $500,000 of public funds.
The Zambian branch of the anti-corruption group Transparency International criticised the overturning of Mrs Chiluba's conviction and questioned the government's commitment to fighting corruption.
Related Internet Links
The BBC is not responsible for the content of external sites.