Russia 'blocking UN Ivory Coast statement'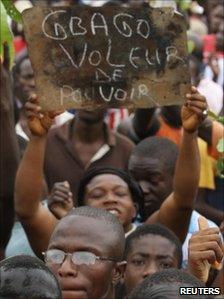 UN diplomats say Russia is blocking a Security Council statement endorsing Ivory Coast opposition candidate Alassane Ouattara as president.
Russia has expressed concern that by declaring Mr Ouattara the winner of last month's disputed election the UN is exceeding its mandate.
However, the US says the UN mission in Ivory Coast is empowered to certify the presidential election.
Incumbent President Laurent Gbagbo is continuing to cling to power.
Earlier, West African regional bloc Ecowas suspended Ivory Coast because of Mr Gbagbo's failure to accept that he lost the election.
Mr Gbagbo defiantly went ahead with the naming of his Cabinet at a ceremony in the presidential palace in the capital Abidjan on Tuesday.
Meanwhile Mr Ouattara held his own Cabinet meeting at a hotel in the city, guarded by the UN.
As the deadlock continued, debate continued for a second day at the UN Security Council in New York, with Russia continuing to express its concern about interfering in Ivory Coast's domestic affairs.
US ambassador to the UN Susan Rice said a peace treaty signed after Ivory Coast's 2002 civil war empowered the UN mission there to certify the election.
She argued that failing to join international calls to respect the results risked exposing the Security Council as impotent.
"This is an important moment for the Security Council. The results are known, the facts are clear, and they need to be acknowledged and respected, that's the position of the United States," she said.
Earlier in the day the UN representative in Ivory Coast told the council that he had double checked the results and was certain that Mr Ouattara had won by a clear margin.
Speaking via video link from Abidjan, Choi Young-jin urged the council to take action against Mr Gbagbo to safeguard the result of the vote.
Ms Rice said she hoped the Security Council debate could resume on Wednesday.
Correspondents say it is unclear what the international community can do if Mr Gbagbo refuses to step down.
At a special summit in Nigeria, Ecowas recognised Mr Ouattara as the Ivory Coast's president-elect and called on Mr Gbagbo to yield power without delay.
Suspending Ivory Coast's membership of the grouping is considered a particularly harsh measure demonstrating that Mr Gbagbo's government is facing criticism from its African neighbours.
Related Internet Links
The BBC is not responsible for the content of external sites.