UNHCR fear for Eritrea migrants 'held hostage' in Egypt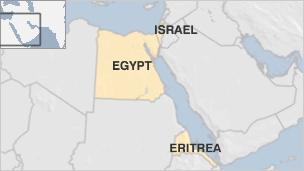 The UN refugee agency has expressed concern over 250 African migrants, said to be held hostage by people-smugglers in Egypt.
Some hostages have reportedly been locked up in shipping containers for up to six months in the Sinai Desert, after failing to pay ransoms.
The group - many from Eritrea - were said to have been abducted while trying to cross illegally into Israel.
The route through the Sinai is increasingly used to traffic people.
This is because north African countries have worked to prevent people smuggling directly into Europe.
The Egyptian security forces are frequently involved in confrontations with the smugglers there, and Israel recently started building a barrier along its desert border with Egypt to try to stop the human trade.
The UNHCR says it has been assured by Egypt's officials that efforts are underway to find and rescue the group.
According to information that has come from the migrants themselves, the people-smugglers, thought to be local Bedouin, increased the fee they were charging from $2,000 (£1,300) to between $8,000 (£5,100) and $15,000 (£9,500).
Related Internet Links
The BBC is not responsible for the content of external sites.