Latvian aid air crew released in Darfur, Sudan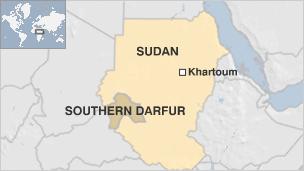 Three Latvian aid air crew kidnapped in Darfur a month ago have been freed, the World Food Programme (WFP) says.
The circumstances of their release are still unknown, a WFP spokeswoman in Sudan said.
She added that no ransom had been paid for the three men, who were helicopter crewmen contracted to the WFP.
Their abduction was the latest in a series of kidnappings of foreign aid workers in Darfur in recent months.
Sudanese intelligence and security forces secured the release of the men from an armed group, South Darfur governor Abdel Hamid Kasha said.
He added that the men were in good health but did not identify the armed group responsible for the kidnapping.
The helicopter pilot, co-pilot and mechanic were taken from a minibus in the South Darfur capital Nyala on 4 November.
About 300,000 people have died since fighting began in Darfur in 2003, and some 2.7 million people have fled their homes as a result of the conflict, the UN says.
Rebel movements in Darfur have been fighting government soldiers and Arab militias, said to be backed by Khartoum.
President Omar al-Bashir was indicted in 2009 by the International Criminal Court for war crimes allegedly committed in Darfur.
He denies the charges and says the number of deaths in Darfur due to the conflict has been greatly exaggerated.
Related Internet Links
The BBC is not responsible for the content of external sites.