Wikileaks: US 'aware of' Kenya-Southern Sudan arms deal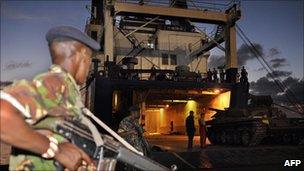 The US government has been aware of Kenyan arms shipments to Southern Sudan for years, the latest diplomatic cables released by Wikileaks reveal.
The cables show that US diplomats under President Barack Obama asked Kenya to stop the shipments in 2009.
Kenyan officials reacted with anger because the government of President George W Bush had not objected to their support for Southern Sudan.
Wikileaks has so far released more than 1,100 of 251,000 secret US cables.
Many of the cables from the US embassy in Nairobi describe conversations about the Kenya-bound freight ship Faina that was seized by Somali pirates in the Gulf of Aden in September 2008.
The Ukrainian vessel, released after five months for a $3.2m ransom was packed with weapons, including more than 30 tanks.
The Kenyan government publicly rejected accusations that the load on the Faina was an arms shipment for Southern Sudan's army, the Sudan People's Liberation Army (SPLA).
However, cables published by the New York Times show that US officials knew that the arms on the Faina were originally heading for Southern Sudan and were aware of Kenya's engagement in Southern Sudan.
While the Bush administration did not intervene, the government of President Barack Obama took a stricter position and threatened Kenya with "sweeping sanctions".
They said the Kenyan government was under pressure to deliver the weapons. The officials also told the ambassador that President Mwai Kibaki was "very angry about this issue".
Mr Ranneberger commented that the Kenyan government was "understandably confused, as transfer of these tanks, in their view, dove-tailed with the goals of the United States" to convert the SPLA into a small conventional force "capable of defending Juba (but not take Khartoum), able to integrate with a national force, and able to counterbalance the significant military capacity of Khartoum".
Southern Sudan is set to vote on possible independence in a referendum on 9 January, after two civil wars with the north. Because of the enormous amount of weapons supplied to both the north and south of the country, US Secretary of State Hillary Clinton has called it "a ticking time bomb".
The tanks that were shipped on the Faina are reportedly still in Kenya.
The New York Times reports that it is not clear whether Washington has asked Nairobi to hold off the shipment of the tanks to Southern Sudan.
Related Internet Links
The BBC is not responsible for the content of external sites.