Somali radio station wins press freedom award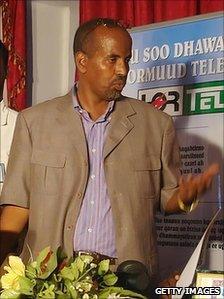 An embattled Somali radio station has received an international press freedom award at a ceremony in Paris.
The Mogadishu-based station, Radio Shabelle, has struggled to operate in the face of violence and harassment by Islamist militias.
Five of its journalists have been killed in recent years.
The international pressure group, Reporters Sans Frontieres, which presented the award, has described the station as a "symbol of courage".
The group described Radio Shabelle as Somalia's most respected privately-owned radio station and also the most exposed to violence.
"Constantly harassed by the radical Islamist militias that are fighting the transitional government and sometimes hit by gunfire from pro-government troops during the frequent armed clashes, it struggles to survive amid the chaos," Reporters Sans Frontieres said.
Four of the station's journalists were killed last year alone, including manager Mukhtar Mohamed Hirabe. In 2007 acting manager Bashir Nor Gedi was killed outside his home.
Receiving the award, Ali Abdi of Shabelle Media Network said it was "an immense honour" which recognized "not just our own work but also the courage of all Somali journalists and Somali civil society".
"In our country, where chaos reigns and the armed Islamist militias want to silence us, we take great risks to report the news," he said.
"We will not be intimidated. We are determined to continue our struggle for independent journalists and respect for human rights."
Related Internet Links
The BBC is not responsible for the content of external sites.