Nigeria army kills 'kidnap gang leader' in Abia state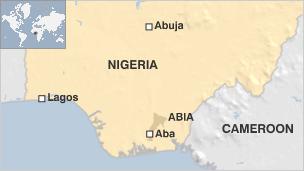 The alleged leader of several notorious kidnapping gangs in Nigeria's Abia state has been killed, its army says.
Army spokesman Sagir Musa said a joint military task force had shot dead Obioma Nwankwo, also known as Osisikankwu, in a forest gun battle.
Nwankwo had been wanted for some months after an increase of kidnapping and robberies in the area.
Correspondents say people began celebrating in the main town of Aba when they heard news of his death.
Hostage-taking has become so bad in the south-eastern state that many middle-class Nigerians travel with armed escorts.
Hostages tend to be released unharmed after a ransom is paid.
A joint military task force was deployed to the state in September to restore order at the height of the violence when many businesses were forced to close and some children were abducted from their school bus.
The children were later released after a military operation.
According to Nigeria's Vanguard newspaper, Nwankwo had said in an interview last month that he had turned to militancy to protest against police abuses and extortion.
"We became militants because of the failure of government to live up to its responsibilities towards us. Many of us are graduates. Some are university drop-outs, who could not continue for want of fund or sponsors. There are secondary school leavers without a future in school or jobs," he told the paper.
Abia state is on the fringes of the Niger Delta, where gunmen target oil workers for a ransom.
Related Internet Links
The BBC is not responsible for the content of external sites.