Nigeria ex-governor James Ibori faces extradition to UK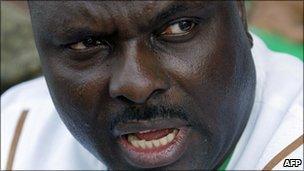 Dubai's highest court has ruled that former Nigerian state governor James Ibori can be extradited to the UK to face corruption charges.
He is accused by Nigeria's anti-corruption agency of stealing more than $290m (£196m) of state funds while in office in the oil-rich Delta state.
British investigators say he channelled much of the money into banks in the UK.
Mr Ibori, who denies the charges, was detained in May after the intervention of the global police agency Interpol.
A month before he arrived in the Gulf emirate, a group of his supporters attacked police and prevented them from arresting him in his home town.
The Dubai Court of Cassation ruled that there were no grounds to block the extradition.
In 2007 a London court froze UK assets worth $35m allegedly belonging to him. His annual salary was less than $25,000.
He had already left the UK when his assets were seized.
Mr Ibori, who is a senior figure in Nigeria's ruling People's Democratic Party (PDP), was first arrested in Nigeria in December 2007.
Two years later, a court in Asaba cleared him of 170 charges of corruption, saying there was no clear evidence to convict, sparking the anger of Nigeria's anti-corruption agency, the Economic and Financial Crimes Commission (EFCC).
Under Nigeria's federal system, state governors enjoy wide powers.
Those running oil-rich states have budgets larger than those of some African countries.
They enjoy immunity from prosecution while in power, but several have faced corruption charges since leaving office after the last election in 2007.
Related Internet Links
The BBC is not responsible for the content of external sites.