Kenya election violence: ICC names suspects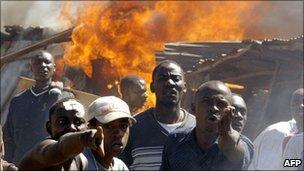 The prosecutor at the International Criminal Court (ICC) has named six high-profile Kenyans he accuses of being behind the violence that followed the disputed 2007 elections.
Deputy PM and Finance Minister Uhuru Kenyatta, one of those named, immediately protested his innocence.
Some 1,200 people died and more than 500,000 fled homes in the violence.
In the peace deal that followed it was agreed perpetrators would face justice in Kenya or at the ICC in The Hague.
Kenyan MPs have so far blocked moves to set up a local tribunal.
On Monday, President Mwai Kibaki announced the government would launch its own investigation - a move his critics have denounced as an attempt to prevent suspects being sent to The Hague.
But US President Barack Obama, whose own father was Kenyan, called on the country to cooperate with the ICC.
"The path ahead is not easy, but I believe that the Kenyan people have the courage and resolve to reject those who would drag the country back into the past and rob Kenyans of the singular opportunity that is before them to realise the country's vast potential," he said.
The violence broke out three years ago after Mr Kibaki's supporters were accused of trying to rig the presidential election.
It ended when Mr Kibaki and his rival Raila Odinga agreed to share power, with Mr Odinga becoming prime minister.
The ICC alleges a criminal plan was put in place in the Rift Valley for supporters of President Kibaki to be attacked after the election.
ICC prosecutor Luis Moreno Ocampo said that in retaliation, police were given the green light to use excessive force and a vigilante group was organised to attack civilians.
Mr Ocampo said: "These were not just crimes against innocent Kenyans. They were crimes against humanity."
He has summoned higher education minister William Ruto (who is suspended amid corruption allegations), radio executive Joshua Arap Sang and Minister for Industrialisation Henry Kosgey on charges of murder, deportation, persecutions and torture, carried out on behalf of the former opposition.
On President Kibaki's side, secretary to the cabinet Francis Kirimi Muthaura, former police chief Mohammed Hussein Ali and Mr Kenyatta, son of founding President Jomo Kenyatta, face charges of murder, deportation, persecutions and rape.
Uhuru Kenyatta said: "My record is clear and it remains very clear that I have never committed any crime."
The other five people named have also denied any involvement and say they are ready to face justice.
Mr Ocampo said he did not have evidence to pursue charges against Mr Kibaki or Mr Odinga.
"We follow the evidence where it takes us. We are not taking into account political responsibilities... there are political debates, but it is not my responsibility," Mr Ocampo said.
He said the six were the "most responsible" but there were "many others" that Kenya could decide to prosecute.
Kenyan police have been put on alert in case the announcement sparks renewed clashes.
President Kibaki issued a statement appealing for calm.
He said the ICC process had only just begun and that until it had been completed any other calls for action to be taken against the six would be "against the rules of natural justice".
Mr Kibaki again said he was "fully committed to the establishment of a local tribunal".
Each of the six will be served with a court summons, but if they fail to turn up or if they attempt to hinder the investigation - for example by intimidating witnesses - Mr Ocampo says he will request arrest warrants.
BBC East Africa correspondent Will Ross says in recent days there has been a degree of panic among some members of the usually untouchable political elite.
Most Kenyans feel these prosecutions are vital in order to undermine the deeply rooted culture of impunity, our correspondent says.
The key question now is whether those accused will hand themselves over or be shielded by politicians and evade justice, he says.
The BBC's Wanyama Chebusiri in Eldoret says there is an unusually heavy police presence in the Rift Valley town, the scene of some of the worst violence.
There were divergent reactions from residents to the list, broadcast live on television, but no sign of trouble, he reports.
"Maybe justice will finally be done," a woman told the BBC.
But another man felt it was a wasted opportunity: "It has failed miserably, these are the small fish."
In Kibera, another scene of election protests, news of the six names was taken calmly, the BBC's Odhiambo Joseph reports.
The Nairobi slum is a stronghold of Mr Odinga, and residents seemed relieved he was not named, he says.
Kenya has had a series of violent elections, but the disputed poll in 2007 saw the country taken to the brink of civil war.
There were revenge attacks, with long-standing ethnic and economic rivalries ignited by political divisions.
Communities turned on each other with crude weapons as they were encouraged, and even paid, by power-hungry politicians, our correspondent says.
One of the worst incidents saw a church where about 100 people had sought sanctuary set on fire, killing dozens of people inside.
Weapons were put down only after former UN Secretary General Kofi Annan brokered a peace deal between the two presidential rivals.
Related Internet Links
The BBC is not responsible for the content of external sites.