Ivory Coast: Gbagbo under pressure to stand down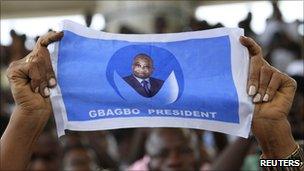 International pressure is growing on Ivory Coast incumbent President Laurent Gbagbo to cede power to opposition leader Alassane Ouattara after last month's disputed presidential election.
French President Nicolas Sarkozy says Mr Gbagbo must stand down by "the end of the week" or face EU sanctions.
Kenyan Prime Minister Raila Odinga has called for African nations to remove Mr Gbagbo by force if necessary.
Mr Gbagbo's refusal to stand down has sparked fears of renewed civil war.
The United Nations, Washington, African states and others say the election on 28 November was won by Mr Ouattara.
Mr Gbagbo insists the result was rigged by rebels who still hold the north after the civil war in 2002-03.
Ouattara supporters threatened to take to the streets, a day after gun battles in the main city, Abidjan, left at least 20 people dead.
However, the BBC's John James in Abidjan says the city is quiet, although many businesses are closed.
"The fate of Laurent Gbagbo and his wife lies in their own hands," Mr Sarkozy said on Friday. "If, by the end of the week, they have not left the office they hold... in violation of the will of the Ivorian people, they will feature by name on the [EU] sanctions list."
The European Union has also threatened sanctions and is calling on the Ivorian army to switch its loyalty from Mr Gbagbo to Mr Ouattara.
In the closing statement from a summit in Brussels, the EU called on "all Ivorian leaders, both civilian and military who have not yet done so, to place themselves under the authority of the democratically elected President, Mr Alassane Ouattara."
For his part, Mr Odinga said the African Union should "develop teeth".
"Mr Gbagbo must be forced, even if it means using military means to get rid of him, because now he is just relying on military power, not the people's power, to intimidate the people," Mr Odinga told a news conference in Nairobi.
One of the African Union's top officials, Jean Ping, arrived in Abidjan on Friday in an effort to mediate between the two sides.
The UN refugee agency UNHCR is making contingency plans for an outflow of refugees. More than 4,000 people have already fled to neighbouring Liberia.
A senior US official has also been quoted as saying that Mr Gbagbo has been given days to stand down or face travel and financial sanctions.
The unnamed official said Mr Gbagbo and his family have "multiple homes in multiple countries" he could go to but he could lose access to them if sanctions are imposed.
Our correspondent says, if confirmed, this would surprise many Ivorians, as Mr Gbagbo projects an image of austerity and nationalism.
On Thursday, at least 20 people were killed as Mr Ouattara's backers tried to march on the headquarters of state TV and clashed with troops loyal to Mr Gbagbo.
A spokeswoman for Mr Gbagbo said 10 protesters and 10 members of the security forces had died.
Officials from Mr Ouattara's camp put the number of dead at 30 or more.
The UN Security Council warned that all sides would be held accountable under international law for any attacks against civilians.
Mr Ouattara has been staying at a hotel in Abidjan since the disputed second round, which the Electoral Commission said Mr Ouattara won by 54% to 46%.
Mr Gbagbo refused to admit defeat, and the Constitutional Council then annulled some results from the north, declaring Mr Gbagbo the winner.
Most of Thursday's violence was reported in Abidjan, but on Thursday afternoon it appeared to be spreading, with reports emerging of unrest elsewhere.
Former rebels from the New Forces led by Guillaume Soro apparently tried to storm positions held by the military near the town of Tiebissou, just south of the ceasefire line agreed in 2003 to end the country's civil war.
Mr Soro is Mr Ouattara's prime minister-designate.
The sides exchanged fire and civilians fled the town, reports say, but there were no confirmed casualties.
In Washington, State Department spokesman PJ Crowley said a combined delegation from the African Union and the Economic Community of West African States (Ecowas) would be in Abidjan soon "to continue to encourage President Gbagbo to step aside".
Both organisations have already suspended Ivory Coast until Mr Gbagbo cedes power.
The UN has about 10,000 peacekeepers in Ivory Coast.
Related Internet Links
The BBC is not responsible for the content of external sites.