Head-to-head: Ivorians on election dispute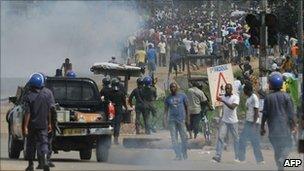 International pressure is growing on Ivory Coast incumbent President Laurent Gbagbo to cede power to opposition leader Alassane Ouattara after a disputed presidential election.
Mr Gbagbo's refusal to stand down has sparked fears of renewed civil war, as both candidates claimed the country's top post. More than 50 people have been killed in post-election violence in Ivory Coast amid growing reports of abductions, the UN has said.
BBC News website readers in Ivory Coast have been reacting to the current situation:
This is real war. I live in Abidjan near to where the attacks took place yesterday.
I did witness the violence - a man was killed in my area.
There are a lot of dead but the government is not giving out the real figure since they are in control of state television.
I think that the West African peacekeeping mission Ecomog should be deployed immediately. Gbagbo must be removed.
Although I didn't vote in the election I am more than sure that the opposition leader, Alassan Ouattara, won the election clearly.
I feel that the UN should also be taking this matter seriously. They - and France - need to do something before more citizens lose their lives.
I am afraid that this situation will end in civil war.
This situation was a foregone conclusion.
The UN has taken sides with Ouattara, which they should never have done. It is not the mandate of the UN to support one specific candidate. The UN should be peacekeeping - not getting involved in the politics of the country.
Mr Ouattara has caused problems here ever since his arrival on the political scene in 1993.
Gbagbo is internationally unpopular. This is because he is interested in protecting his own people and resources, rather than being led by the West, as Ouattara is. If Gbagbo had wanted to cheat in the elections - he could have done. He is the incumbent after all.
People now feel that the truth is being covered up - we all just want this situation to be sorted out so that we can have peace. We've had enough of this and we've had enough of western interference.
There has been terrible violence in certain districts. Soldiers were burned alive in a building. Although I am in a relatively safe area, we are very careful now, we don't go out. We stay out of trouble.