Goodluck Jonathan gets boost to Nigeria election bid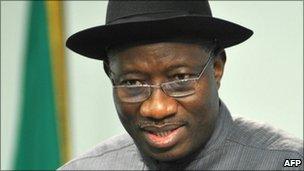 A group of Nigeria's powerful governors have said they will back President Goodluck Jonathan for next year's elections - seen as a major boost to his campaign.
Half of the 36 governors backed Mr Jonathan's bid to be selected as the ruling party's candidate.
Whoever wins the PDP nomination will be the favourite for the April 2011 poll.
Mr Jonathan, a southerner, is opposed by some in the PDP, who say the party should choose a northerner.
The PDP (People's Democratic Party) has a tradition of alternating power between north and south every two elections, meaning a northerner would normally stand in 2011.
Several northern powerbrokers have backed the campaign of former Vice-President Atiku Abubakar, a northerner, to be the PDP candidate.
'Principle of incumbency'
At an emergency meeting in the capital, Abuja, 18 governors and two deputies said they would support Mr Jonathan in PDP primaries on 13 January 2011.
"Democratic systems all over the world recognise the principle of incumbency and continuity," said Ibrahim Shema, governor of the northern state of Katsina, reports the Reuters news agency.
They did, however, say he should seek only one term.
The chairman of the governors' forum, Bukola Saraki, also later dissociated himself from their position, saying he would support a candidate from the north.
The PDP has 26 of Nigeria's 36 state governors and, in the party's structures, they wield considerable power.
In previous primaries, they have instructed delegates from their states how to vote.
So the BBC's Bashir Saad Abdullahi in Abuja says their announcement is a significant boost for Mr Jonathan.
But he says that if state delegates vote independently, rather than how governors tell them, Mr Abubakar could still secure the party's nomination.
Mr Jonathan became president in February after the death of Umaru Yar'Adua, a northerner.
He is the first president from Nigeria's southern, oil-producing Delta region.
Nigeria's recent elections have been tarnished by fraud and violence.
Mr Jonathan has promised to introduce electoral reforms, but correspondents say it will be difficult to implement radical changes before April.
The main opposition candidates are former anti-corruption campaigner Nuhu Ribadu and Gen Muhammadu Buhari.
Related Internet Links
The BBC is not responsible for the content of external sites.