Sudan's President Bashir 'siphoned off millions' - ICC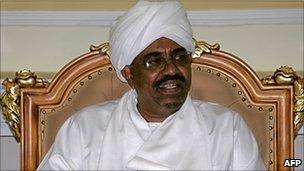 Sudanese President Omar al-Bashir has been accused of siphoning off up to $9bn (£5.6bn; 7bn euros) of his country's funds by the chief prosecutor of the International Criminal Court (ICC).
Luis Moreno Ocampo told the BBC that President Bashir had hidden the money in personal accounts outside Sudan.
Sudan has forcefully denied the claims.
The ICC's chief prosecutor has charged Mr Bashir with crimes against humanity, war crimes and genocide over alleged atrocities in Sudan's Darfur region.
Mr Ocampo told the BBC he had looked into Mr Bashir's financial affairs as part of the overall case against him.
He said the court had "strong reason to believe that Bashir has a lot of money" held in personal accounts outside Sudan - but that he could not be sure of the precise amount, with estimates ranging from hundreds of millions of dollars up to $9bn.
In the leaked diplomatic cable, US diplomats report Mr Ocampo as saying that "Lloyd's Bank in London might be holding or knowledgeable of the whereabouts of his money".
But Lloyd's has denied holding any funds in Mr Bashir's name, and in his BBC interview, Mr Ocampo agreed that the money was not held in a London account. "This is a confusion," he said, and he said he did not know where the money was.
"The money is not in UK and it's sad because in UK it would be easy to get the money. In UK, some banks [have] official accounts of the Sudanese government - that's different. The personal accounts of President Bashir are not there."
Asked why he did not reveal his suspicions about siphoned funds at the time the ICC issued an arrest warrant for Mr Bashir in March 2009, Mr Ocampo said he was not bringing financial charges against Mr Bashir but that any funds uncovered could be used to compensate his victims.
Correspondents say that if Mr Bashir does indeed hold a fortune of $9bn in secret bank accounts, that would be equivalent to one tenth of the country's annual GDP.
"Ocampo suggested if Bashir's stash of money were disclosed... it would change Sudanese public opinion from him being a 'crusader' to that of a thief," one senior US official was quoted as saying in the leaked cable.
Speaking to the BBC, a spokesperson for the Sudanese government, Dr Khalid al-Mubarak, dismissed the claims made by Mr Ocampo.
"I know that we have a government, we have a treasury, we have a system, we have a civil service," Dr Mubarak said.
"And that we are not the sort of country in which the president puts all the money under his pillow and decides to deal with it the way he does... We are a country with rules and regulations, and a civil service."
He said Mr Ocampo had "lost all credibility as far as Sudan is concerned. He has been proven wrong more than once about Sudan and he has exaggerated many things about Sudan.
"And this is the reason why Sudan as a whole is being targeted," Mr Mubarak said.
Related Internet Links
The BBC is not responsible for the content of external sites.