Ivory Coast crisis: Gbagbo ally warns of UN rebellion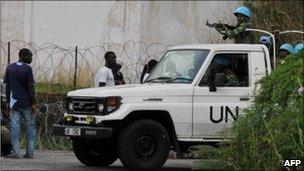 An ally of Ivory Coast's incumbent President Laurent Gbagbo has warned UN peacekeepers they could be treated as rebels if they remain in the country after being told to leave.
The UN has said its misssion is being harassed by pro-Gbagbo forces, who want to cut its fuel supplies.
The UN says Alassane Ouattara won last month's poll and has urged all parties to recognise him as president.
Despite being ordered out, it extended the mandate of its force of 10,000.
Mr Gbagbo says the polls were rigged in rebel-held areas of the north and was declared the winner by the Constitutional Council. But the UN mission in Ivory Coast, which was involved in organising the election, backed the electoral commission in saying Mr Ouattara had won.
At least 50 people have been killed in violence linked to the dispute, the UN says, amid fears of a return to civil war.
The US has issued a travel ban on Mr Gbagbo and about 30 of his close associates
The UN refugee agency says about 6,000 people have fled Ivory Coast for Liberia since the election
The West African regional body, Ecowas, has condemned Mr Gbagbo's order for the UN troops to leave Ivory Coast
Ecowas has called an emergency summit for Friday
Allies of Mr Ouattara have called for the UN to do more to protect their supporters from pro-Gbagbo forces which they accuse of operating "death squads" - charges strongly denied
Nigeria has offered to let Mr Gbagbo go into exile there
Mr Gbagbo's Interior Minister, Emile Guirieoulou, said of the UN mission:
"If, against our will, they want to keep this force in our country, we won't co-operate with them.
"And if they choose to have authorities other than the legal authorities of the country, they become part of the rebellion."
UN peacekeeping chief Alain Le Roy told the AFP news agency that UN troops were being harassed by pro-Gbagbo groups.
"They want to cut all of our fuel. They are forcing us to leave the apartments we use," Mr Le Roy said.
UN troops are guarding the luxury Hotel Golf where Mr Ouattara has been based since the election and where he meets members of the cabinet he has named.
The BBC's John James in the main city Abidjan says soldiers loyal to Mr Gbagbo have blocked roads leading to the lagoon-side hotel.
The hotel has not received any supplies for several days and reports say the food will run out on Thursday.
Mr Guirieoulou also dismissed reports of a mass grave in Abidjan.
"It's lies. All that to get some sympathy."
On Monday, UN special envoy to Ivory Coast Choi Young-jin said the UN had been prevented from investigating the reports.
The UN also says it has received hundreds of reports of people being abducted by armed men at night. Some have later been found dead.
Western - as well as African - countries have backed Mr Ouattara.
The European Union says it will this week issue a travel ban on Mr Gbagbo and 18 of his closest allies, including his wife. It is also working on freezing any assets he may have in the EU.
The election, delayed for five years, was supposed to reunify the world's largest cocoa producer, which has been divided since 2002.
Related Internet Links
The BBC is not responsible for the content of external sites.