Nairobi bus blast 'caused by Tanzanian with grenade'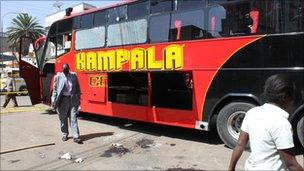 A bomb explosion at a bus station in Nairobi was caused by a grenade carried by a man believed to be Tanzanian, Kenya's police commissioner has said.
Mathew Iteere said the suspect had been boarding a bus to Uganda but became nervous due to security checks, causing him to drop the grenade.
The man is believed to have been one of the three people killed in Monday's blast, which wounded 39 others.
Ugandan police have said al-Shabab militants may be linked to the attack.
Hours before the attack, Uganda's police chief warned of Christmas terror attacks by the Somali Islamist group.
Al-Shabab in July said it had carried out twin bomb blasts in the Ugandan capital, Kampala, in retaliation for Uganda's support for Somalia's government.
"We have confirmed that it was an act of one person and this is the person who died in the incident. We are yet to gather if he was working with other people," Mr Iteere said at a news conference.
"In these incidents which have happened, we have found that most people perpetrating this type of crime are people who have recently converted to Islamic faith. These are the people who have been radicalised and indoctrinated," he said.
The commissioner added that the grenade was similar to one which killed a policeman earlier this month in Nairobi.
Ugandan police said there was reason to believe al-Shabab were involved, and said they were stepping up security at border points with Kenya and Sudan.
"We believe there's a connection between the threats we're getting from al-Shabab and other al-Qaeda affiliated groups and the attack in Nairobi," Uganda's top police officer, Inspector General Kale Kayihura, said.
The blast on Monday night smashed the windows of the Kampala Coach vehicle, and left blood stains and scattered bags on the ground nearby.
Most of the wounded were Ugandans travelling home for Christmas, Red Cross official Nelly Muluka told the Associated Press.
The BBC's Will Ross in Nairobi says the explosion might have been on a small scale but it has certainly made people nervous as they set off for their Christmas leave across the country and the region.
Al-Shabab has in the past threatened to attack Kenya because of its support for Somalia's weak, UN-backed government.