Ivory Coast crisis: Your views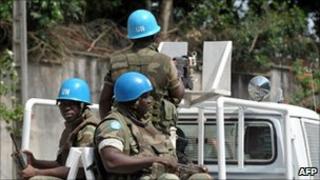 The UN has warned that civil unrest could erupt in Ivory Coast as the crisis over disputed presidential elections continues.
Former PM Alassane Ouattara is globally recognised as the winner but incumbent president Laurent Gbagbo is refusing to step down and is calling on UN peacekeepers to leave. France has urged its nationals in Ivory Coast to leave.
BBC News website readers in the country have been sending their views about the current situation:
Toure in Abidjan
The crisis is reaching a climax and it will get worse.
The international community should take some measures to make the incumbent president step down.
The best solution is the military option. The security situation is getting worse and there have been some abductions in my neighbourhood. It hasn't happened again but mostly because people are now vigilant and watching out for any troops that come by.
We are really hoping that the international community steps in.
So far it has been very passive, it is not helping. You need quick actions as temporary solutions will only make things worse.
I only trust international troops like the French and the British because they are highly professional.
I don't really trust African troops because they leave many casualties.
Charles in Abidjan
The election should be cancelled because it wasn't a free and fair one. The UN should do something about it and reorganise it. I think Laurent Gbagbo won it in accordance to the country's constitution.
The solution is not to take the current president out of power, this will cause a lot of problems. Let the two parties unite or try to work together.
I have been having some problems with this crisis, I don't have any cash because the bank said they had no money. They only gave me 20% of what I requested.
I don't think the situation will improve.
More comments:
The problem in Ivory Coast will have no repercussions on voters in other African countries about their own upcoming elections because each African country has a peculiar problem. The problem of Ivory Coast is mainly due to external interference trying to dictate to and preventing a state from asserting itself. Let me correct the impression that the election process in Ivory Coast went wrong. No, nothing is wrong with the election process. What went wrong in Ivory Coast was the inability of the international community to study Gbagbo's complaint of massive fraud in the rebel held north into recognition The north is his opponent's stronghold and naturally they could have done one or two things to frustrate those that could have voted for Gbagbo. Gbagbo's camp wasn't given a hearing, instead the UN hastily announced the result proclaiming Gbagbo's opponent the winner. From the action of the UN and utterances coming from France, it is obvious that even before the elections they decided whom they wanted. Samueal, Abidjan
It would be much better for the UN to leave Ivory Coast immediately because they are a big problem in this country. Why would they force a president to leave the country? Neither Ouattara nor Gbagbo should take power and they should bring in an interim government. Dad, Ivory Coast
I think the African community and UN should use military force to remove the president from office. There should be no need to delay it any longer. Mizzy, Abidjan
Many people have lost their life since the last poll in Cote D'Ivoire because of Mr Gbagbo. The people of Ivory Coast have declared that they don't need Mr Gbagbo any longer as the president but he persists. Right now people are in fear because of the past experiences. I suggest the UN, EU, and AU should intervene by force and take him out and use him as an example to other Africa leaders who are abusing democracy. Basil Emeka, Abidjan