Angola frees four activists jailed over Togo attack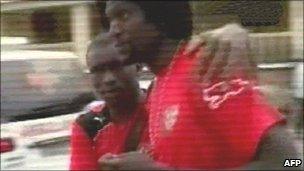 Four human rights activists in Angola arrested over the deadly attack on the Togolese football team in January have been released from prison.
They were taken into custody in the wake of the attack on the team as it arrived for the African Cup of Nations.
In August the men were found guilty of having links to a separatist group which said it was behind the shooting.
However, the attorney general for Cabinda province said their conviction was based on outdated legislation.
Rights organisations have accused Angola of using the 30-minute machine gun attack on the Togolese football team to justify a crackdown on its critics in the province of Cabinda.
The four men - a Catholic priest, a university professor, a lawyer and a former policeman - had been sentenced to prison terms of between three and six years for the attack.
Two Togolese officials were killed in the shooting; the Angolan driver, who was originally reported to have died, survived the attack - which a faction of the Front for the Liberation of the State of Cabinda (Flec) said it carried out.
Cabinda's public prosecutor confirmed that the men have now been released and reunited with their families.
The BBC's former Angola correspondent Louise Redvers says their actions boiled down to possession of material about Flec and contact they had made with the rebel leaders to discuss the future of Cabinda.
Meanwhile, the trial of two other men accused of January's shooting continues, our reporter says.
Angolan Daniel Simba and Joao Antonio Pauti, from Congo-Brazzaville, deny any links to Flec, whose leaders are based in France and Switzerland.
Last week an Angolan with French citizenship was arrested in Paris in connection with the attack.
Flec has been fighting for three decades for independence in Cabinda, an area separated from Angola by a strip of the Democratic Republic of Congo.
Despite being rich in oil, the region is one of the poorest in the country.