Nigeria grants bail to Iranian held over arms shipment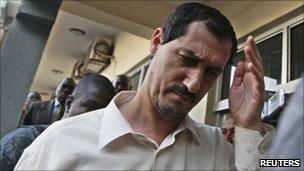 A court in Nigeria has granted bail to an Iranian man charged with arms trafficking after an illegal shipment of weapons was intercepted in October.
Judge Ishaq Bello of the high court in the capital, Abuja, set the amount at 20m naira ($131,150; £84,940).
Azim Aghajani, identified by court documents as a Tehran-based businessman and member of Iran's Revolutionary Guards Corps, says he is not guilty.
Three Nigerians have also been charged in connection with the incident.
The weapons, which included rockets, shells, mortars, grenades and ammunition hidden among building materials, were found on a ship docked at seaport of Apapa, in Lagos.
Nigeria reported the seizure to the UN Security Council for an apparent breach of sanctions relating to Iran's nuclear programme.
Prosecutors later said Mr Aghajani was attempting to send them to The Gambia, which recalled its ambassador to Iran last month.
Senegal also cut diplomatic ties with Iran last week amid speculation the shipment was ultimately destined for its southern region of Casamance, where a low-level separatist rebellion simmers despite a peace deal.
The Iranian government has said only that the shipment belonged to a private company and was being sent to a "West African country".
In his ruling on Tuesday, Judge Bello said Mr Aghajani's bail application had not been opposed because recent "gestures" by the Iranian embassy in Abuja had "gone down well with the state".
He said the Iranian would next be in court on 31 January.