Sudan war exiles eager to make their mark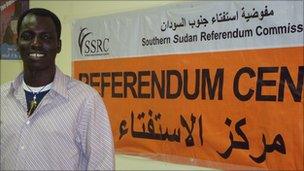 Cries of welcome greet visitors at the door of an old office block tucked down a side street in Alexandria in the US state of Virginia.
Inside, dozens of Southern Sudanese crowd the rooms and doorways, talking intensely about January's referendum on whether the south should stay part of a united Sudan or secede and become an independent nation.
They have travelled here from all over the United States, determined to have a say in the future of a country that many haven't seen for decades.
The vast majority are refugees. Some fled the civil war as children, others came here as adults. But almost all believe that voting for independence in January is their best chance of returning home.
"This referendum is very, very important," says Julius Nyambur Wani.
"Some of us have never lived to enjoy what freedom means, what being free in a place that you call home entails."
Mr Wani is one of the so-called "lost boys" of Sudan - the name given to thousands of children who were orphaned or displaced by the war.
He was aged about five when armed militias ransacked his village and snatched him from his home.
It was only when the provisional peace process started in 2005 that he was able to trace his parents and discovered they were both alive.
He spoke to his mother by phone for the first time last year, but was unable to recognise her voice.
She is ill and Mr Wani knows he has only a short time in which to see her again.
Reconnecting with lost relatives is a priority, but he also wants to return to help rebuild his country.
"We have grown up now and we are politically motivated," he says.
"We have been given the chance to decide our destiny. Most of us think that living in a united Sudan has not been productive and that separation will be more pleasing. With separation we will be able to see where the problems lie."
The Southern Sudanese diaspora in the US is relatively small with most of the population concentrated in the state of Nebraska.
There are only a handful of centres around the country where they can register to vote. It is an experience of democracy that is new to many.
"One vote can make all the difference," says Chaplain Kwage Lomere, who lives in Baltimore, Maryland.
"As a Southern Sudanese it is very important for me to vote. I need to be a part of it even though I left about 20 years ago. I did not participate in the war but I am now contributing in a different way.
"Southern Sudan has suffered for a long time and our people have been suffering economically, and from hunger and disease.
"It is important for us to get independence and security. I have been afraid to go back, but my vote is a paving stone on the road to home, to see my people and my lovely land. The land I call home."
In order to vote outside the country, Sudanese nationals have to prove they were born in the south.
That has presented a significant problem. Many came to America as refugees and have no birth certificates or other proof of origin.
John Myanza is a typical example.
The 27-year-old from Baltimore has braved the bitter cold and travelled across Maryland to register.
"I don't know the rules, so I just brought what I've got," he tells officials.
He hands over a document from the UN High Commission for Refugees (UNHCR) that confirms his name and legal right to live in the US.
But crucially it does not indicate where he was born.
Mr Myanza looks around the room, desperately seeking help.
"I have to make sure I don't miss this opportunity to vote because there will be only one," he exclaims, clearly agitated and upset.
Officials try to calm him and check his other papers, but his US immigration forms are also unacceptable.
The situation does not look good and John Tiop, one of the centre's special "identifiers" is summoned.
Identifiers are leaders within the communities who can give oral testimony on behalf of a person without valid documentation.
They have the authority to confirm eligibility based on careful questioning about language, culture, tribal ties and knowledge of Southern Sudan.
"Don't take it personally," says Mr Tiop.
"This is a system and we don't chase anybody away. But we have to distinguish people in the south from our brothers from the north.
"They look like us but geographically they are from the north and cannot vote."
He asks Mr Myanza to name his village and its county. He then asks about his relatives, and within a few minutes Mr Myanza is allowed to register his name.
His brother James is apparently well known to the officials and in this small community of tribal ties and traditions, that is good enough to confirm his identity as Southern Sudanese.
In another room a similar process is taking place involving a woman who has travelled hundreds of miles from New York.
She also lacks acceptable documentation but speaks a Nuer dialect common in Southern Sudan.
After chatting fluently with one of the identifiers, she too is allowed to register.
Identifiers are selected by the Southern Sudan Referendum Commission (SSRC), an independent organisation established as part of the Comprehensive Peace Agreement of 2005.
The SSRC is also responsible for running the Out of Country Registration and Voting (OCV) body in eight countries that have large communities of Southern Sudanese.
They are believed to total about half a million with between 25,000 and 50,000 living in the US.
Registration began in November and most centres extended their closing dates to accommodate the large number of applicants. Voting itself is planned for the week beginning 9 January 2011.
Related Internet Links
The BBC is not responsible for the content of external sites.