Thousands flee Ivory Coast for Liberia amid poll crisis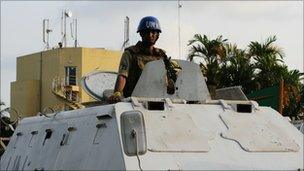 About 14,000 people have fled Ivory Coast to neighbouring Liberia following last month's disputed Ivorian presidential election, the UN says.
It says it is prepared for a total of 30,000 refugees in the region.
Most of those fleeing are supporters of Alassane Ouattara, who is recognised internationally as the new president.
Three West African presidents will go to Ivory Coast on Tuesday to personally urge incumbent leader Laurent Gbagbo to quit, Benin's foreign minister says.
Mr Gbagbo has rejected widespread calls to step down, citing vote rigging in northern areas.
The spokeswoman for the UN refugee agency (UNHCR), Fatoumata Lejeune-Kaba, told the BBC that most of those who had left Ivory Coast since the 28 November election had come from villages in the west of the country.
She said they had been walking for days to escape tensions they feared could explode into violence, and the flow was continuing.
A UNHCR statement added: "With their numbers growing, the humanitarian needs are increasing for the mostly women and children refugees as well as for the villagers hosting them."
Benin's Foreign Minister Jean Marie Ehouzou has said the presidents of Benin, Sierra Leone and Cape Verde will visit Ivory Coast to tell Mr Gbagbo on behalf of regional bloc Ecowas "that he must step down as quickly as possible or face legitimate military force".
He was echoing a warning on Friday from West African leaders of possible military action.
Mr Gbagbo's government said the threat was unjust. It also condemned a decision by the West African central bank to give control of Ivory Coast's account to Mr Ouattara.
Earlier Mr Ouattara urged the armed forces to protect civilians against attack from "the militias and foreign mercenaries that are spilling Ivorian blood".
He said perpetrators of recent violence would be prosecuted and invited investigators from the International Criminal Court to the country.
Mr Ouattara and his cabinet are based at a hotel in the main city, Abidjan, under the protection of UN troops.
Mr Gbagbo has demanded that UN and French troops leave the country. A close ally even warned that they could be treated as rebels if they did not obey the instruction.
The UN, which has 10,000 peacekeepers in the country, rejected the call.
UN officials say at least 170 people have been killed in recent attacks linked to the Ivorian armed forces, who remain publicly loyal to Mr Gbagbo.
There have been suggestions that member nations send in troops to strengthen the presence of the UN peacekeeping force.
The election was meant to unite the country after a civil war in 2002 split the world's largest cocoa producer in two, with the predominantly Muslim North supporting Mr Ouattara and the mainly Christian south backing Mr Gbagbo.
Related Internet Links
The BBC is not responsible for the content of external sites.