Ivory Coast general strike fails in Abidjan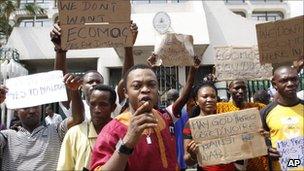 Residents of Ivory Coast's main city of Abidjan have largely ignored calls for a general strike to force the incumbent President Laurent Gbagbo to cede power.
The BBC's John James says the plan for a "dead city" came a little late in the day and many went into work as normal.
The strike has been more effective in the north of the country where there is more support for Mr Gbagbo's rival Alassane Ouattara, he says.
Mr Gbagbo says November's disputed election was rigged in the north.
But the West African body Ecowas has warned him of possible military intervention if he does not hand over to Mr Ouattara, who has been recognised internationally as the victor.
The election was meant to unite the country after a civil war in 2002 split the world's largest cocoa producer in two with the predominantly Muslim north supporting Mr Ouattara and the mainly Christian south backing Mr Gbagbo.
Our correspondent says if the strike action was meant to add pressure on Mr Gbagbo, its immediate effects might be limited.
Even areas of the commercial capital which voted heavily for Mr Ouattara were busy, as was a huge street market across the lagoon from his headquarters.
"Nowadays the people of Ivory Coast live one day at a time," one man in Abidjan told Reuters news agency.
"Whatever the solution to the crisis they have to think about the people who can't go to work and who have nothing to eat because they live from one day to the next."
Another man said: "If the people don't work, it doesn't help anyone."
Operations at the ports of Abidjan and San Pedro, from where much of the country's cocoa exports are shipped, were working normally, the agency reports.
Mr Ouattara's camp is still hoping that from tomorrow the general strike may take hold as the call came fairly late on Sunday evening, our reporter says.
The United Nations, the European Union, the US, the African Union and Ecowas all say that Mr Ouattara won the 28 November vote.
Our correspondent says there has been a small protest outside Nigeria's embassy in Abidjan against any West African intervening force, which would almost certainly come from Nigeria.
A group held up placards, one of which read: "Let Ivorians solve Ivorian problems", AP news agency reports.
A delegation of heads of state from Ecowas - from Benin, Sierra Leone and Cape Verde - is planning to travel to the country on Tuesday to convince Mr Gbagbo to step aside.
His Interior Minister Emile Guirieoulou told a news conference that his government would "welcome the three heads of states as brothers and friends, and listen to the message they have to convey".
Meanwhile the African Union has appointed Kenyan Prime Minister Raila Odinga to lead its efforts to resolve the crisis.
He said his role would be to plead with Mr Gbagbo to accept the will of the people.
"I will be using my position as friend of Mr Gbagbo and Mr Ouattara to try to create some understanding and then to tell him [Mr Gbagbo] that this is a process it is not an event, that you can lose an election and that does not stop you winning the subsequent election," he told the BBC.
Mr Odinga said he would wait for the outcome of the Ecowas talks before deciding his next move.
But Mr Gbagbo, who has accused the US and France of leading a plot against him, insists he is legally president.
"Did the Ivorians elect me or not? That's the only question. I'm not looking for compromise. Truth is not looking for compromise. I want truth," he said.
He also said he would ask his justice minister to order inquiries into allegations of kidnappings and illegal executions.
The UN has said at least 173 people have died in violence.
"In the year 2000, when I came to power, the same people fabricated stories about a massacre at Yopouogon, assassinations. We asked the United Nations to conduct an investigation. There was a report," he said.
"We must acknowledge the similarity between 2000 and 2010."
Supporters of Mr Ouattara have taken control of their country's embassy in Paris, after France said it would recognise their envoy, AFP news agency reports
France has rejected an accusation by Mr Gbagbo of a French-US "conspiracy" seeking to remove him from power
The chairman of the African Union commission, Jean Ping, has asked Kenyan Prime Minister Raila Odinga to play an active role in resolving the stalemate.
Related Internet Links
The BBC is not responsible for the content of external sites.