South Africa relocates residents due to sinkholes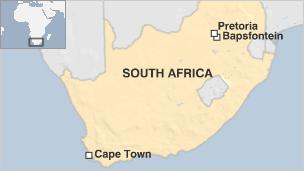 South African authorities have begun the relocation of 3,000 families after huge sinkholes appeared close to their homes near Pretoria.
The depressions are said to be the result of a massive extraction of water by farms in the area, causing underground caverns to collapse.
About 50 families living in an informal settlement in Bapsfontein have been moved so far, officials said.
Authorities have said the land is no longer fit for human settlement.
"The situation is so bad that there are several sinkholes that have formed around the area," Zweli Dlamini, a spokesman for the Ekurhuleni municipality, told the BBC.
He said the area around the informal settlement had been categorised as unsafe due to the possibility of the sinkhole "swallowing that piece of land".
Underground water was increasing the danger to a degree that gave authorities no choice but to order an immediate evacuation, he added.
Some of the sinkholes are more than 80m (263ft) across, and cracks now run throughout the land, says the BBC's Africa editor Martin Plaut.
Families have agreed to move and have been promised better houses to live in.
The relocation process is expected to run until mid-January, according to the South African Press Agency (Sapa).