Ivory Coast: Africa trio give Laurent Gbagbo ultimatum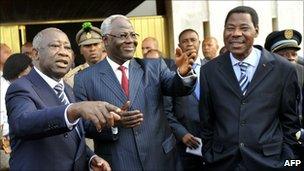 West African heads of state have ended their Ivory Coast mission to persuade Laurent Gbagbo to cede power after the disputed presidential election.
Mr Gbagbo is refusing to make way for Alassane Ouattara, internationally recognised as the president-elect.
The delegation has said that if he does not relinquish power, he could be forced out by military intervention.
An Ivorian TV station loyal to Mr Gbagbo has attacked anyone criticising his decision to stay in office.
It indicated that African nationals from neighbouring countries working in Ivory Coast might be at risk if the threats of military action continued.
Earlier, a United Nations peacekeeper was wounded in the arm with a machete when his convoy was attacked by a crowd in a Gbagbo stronghold.
A UN statement said that one of three vehicles in the convoy was set alight in the incident in a western area of Abidjan.
The UN, which has a force of more than 9,500 in Ivory Coast, has been accused by Mr Gbagbo of interfering in Ivorian affairs - and asked to leave the country.
The UN has refused his call and called for power to be handed to Mr Ouattara.
A statement by one of the three West African leaders, Cape Verde President Pedro Pires, said their visit had ended and they would travel to Nigeria to report to Ecowas Chairman Goodluck Jonathan.
The three West African presidents - Mr Pires, Boni Yayi of Benin and Sierra Leone's Ernest Bai Koroma - had arrived in Abidjan during the morning in what was seen as a final chance to urge Mr Gbagbo to step down peacefully.
After the meeting, Benin's President, Boni Yayi, said "all went well".
But a Laurent Gbagbo adviser, Abdon Bayeto, later told the BBC that "the message he [Mr Gbagbo] had for them was to tell them that he was democratically elected, recognised by our constitution".
The three presidents then went to see Mr Ouattara who is in a hotel with his shadow government protected by around 800 UN peacekeepers.
"Outtara won and we insist that Outtara becomes the president of this country and that is the position taken by the West African leaders," Sierra Leone's Information Minister Ibrahim Ben Kargbo told the BBC.
The hotel is also surrounded by troops loyal to Laurent Gbagbo who says he is not worried by threats to remove him by force and claims he is the victim of a plot involving France and the US.
Mr Ouattara's victory in the 28 November election was overturned by the Constitutional Council, a body headed by an ally of Mr Gbagbo, citing claims that results were rigged in the north.
Since the election, the UN has said at least 173 people have died in violence, and scores of others have been tortured.
The threat of escalating violence has prompted almost 20,000 people to flee Ivory Coast for neighbouring Liberia.
The UN refugee agency (UNHCR) says 15,120 people from villages in western Ivory Coast are known to have crossed the border and another 4,000 arrivals have been reported.
Most of the refugees are said to be women and children and almost two thirds under the age of 18.
The atmosphere in Abidjan is tense, says the BBC's John James, with everyone fearing a military intervention in the coming weeks.
Ivorians had hoped these elections would close the chapter on the country's most difficult 10 years, but instead they have opened up a new period of instability, he adds.
Related Internet Links
The BBC is not responsible for the content of external sites.