Nigerian capital Abuja hit by barracks bomb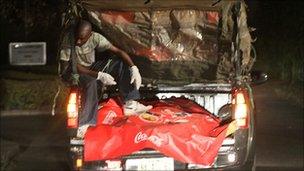 Several people have been killed by a bomb blast at a bar near a barracks in Nigeria's capital, Abuja.
Nigeria's president condemned the attack, blaming it on Islamists who claimed responsibility for a recent bombing in the north of the country.
The explosion happened in a market where soldiers and civilians often gather to eat and drink beer.
A police spokesman said four people had died, while military sources have told the BBC 11 people were killed.
In a statement issued by his spokesman, President Goodluck Jonathan called the attacks "evil" and "wicked".
"Basking in their nefarious success in Jos on Christmas Eve, they have once again knifed at the heartstrings of a nation decked out in gaiety, celebrating New Year's Eve," he said.
An Islamic sect known as Boko Haram said it had carried out the attack in Jos, but there was no immediate claim of responsibility for the Abuja bombing.
State TV initially reported that 30 people were killed. But police spokesman Jimoh Moshood said four people had been killed - three men and one woman.
Witnesses have told the BBC they saw body parts lying on the ground and injured people being carried away after the blast.
"People ran in different directions. There were scores of bodies - dead and wounded. They used army trucks to pack them away," a market regular called Eric was quoted as telling Reuters news agency.
Air Marshal Oluseyi Petiri said a bomb had been placed "where people were relaxing and generally being happy because of the New Year which is approaching".
He urged Nigerians to be vigilant following a recent spate of bomb attacks in a country where they had been almost unknown.
"Do not allow anybody to come and leave a bag, or any kind of object, especially when he is not there," he told state TV.
There have been bomb attacks in the capital and other cities in recent weeks:
On Wednesday, two blasts disrupted a political rally in the southern city of Yenagoa, wounding several people
Bomb attacks in the city of Jos, a flash-point between Nigerian Christians and Muslims, left 80 people dead over Christmas - an Islamist group said it was behind these attacks
In October, at least 12 people were killed in explosions in Abuja as the country celebrated 50 years since independence from the UK - this was blamed on oil militants
The market is near the Sani Abacha barracks, named after Nigeria's late military dictator, in Asokoro district, home to the presidential palace and said to be the city's most secure area.
Officially renamed the Mogadishu Cantonment, the barracks is still known to many by its old name.