Somaliland frees Russians over weapons for Puntland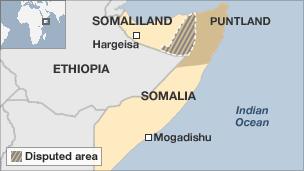 Three Russians are among six air crew freed in Somalia's breakaway Somaliland territory a day after they were jailed for arms smuggling, officials say.
The Russian foreign ministry said it had intervened to "clarify the situation and settle the incident".
Their aircraft was seized earlier this month carrying military equipment bound for the neighbouring semi-autonomous state of Puntland.
The company behind the flight, Saracens International, denied it was illegal.
Initial reports said all six of the crew were Russian but the Itar-Tass news agency says only three were Russian citizens.
The nationality of the other three remains unclear.
A court in the Somaliland capital, Hargeisa, on Thursday sentenced the six to a year in jail and fined them $500 (£320) for supplying military equipment to an enemy.
The uniforms and mines which were found on board the aircraft were confiscated by the court.
Reports say the Russians were told that if they paid a larger fine they would serve a shorter sentence.
Some South African journalists on the plane, which had landed without permission in Hargeisa to refuel, were released earlier.
BBC Africa analyst Martin Plaut says that this is a very murky case and that many elements of it are unclear.
After the crew were arrested the interior minister of Somaliland, Mohamed Abdi Gaboosi, said the cargo was in violation of the United Nations arms embargo on Somalia.
Saracens - a private military contractor, which is based in Uganda and South Africa - told the BBC at the time that the cargo was destined for its operation in Puntland, where it is training an anti-piracy force.
Somaliland declared itself independent from Somalia in the early 1990s, but is not internationally recognised. It is relatively stable, unlike the rest of Somalia, and organises regular elections.
However, it has a border dispute with Puntland and the two security forces occasionally clash.
Unlike Somaliland, Puntland says it does not seek recognition as an independent entity, wishing instead to be part of a federal Somalia.
Somalia has not had an effective national government since 1991.