South Africa stampede bar-owner in court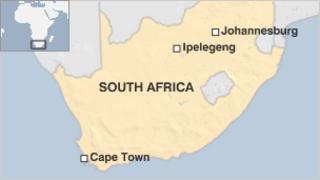 A South African man who owns a bar where 10 people were killed in a stampede on New Year's Day has appeared in court.
James Lepholletse, 47, is accused of culpable homicide, or manslaughter. His case was postponed to Friday.
Police say they are investigating the cause of the crush at the crowded bar in Ipelegeng, a township about 300km (186 miles) south-west of Johannesburg.
Hundreds of local people gathered at the court but no violence was reported.
Few other details emerged from Mr Lepholletse's brief appearance at the magistrates' court in the town of Schweizer-Reneke, near Ipelegeng.
The dead - seven men and three women - were aged between 18 and 25, officials said.
It is still unclear what caused the incident, but police have called for calm following reports of mounting tensions in the township.
Police spokesperson Adele Myburgh urged the community to "remain calm and not take the law into their own hands".
Unconfirmed reports suggest the stampede, which took place after 02h00 local time (0000 GMT), occurred when party-goers tried to escape a fight.
A witness said Mr Lepholletse fired a gun to encourage patrons to leave, the AP news agency quotes Mr Myburgh as saying.
Ipelegeng Mayor Kenneth Tshipelo has described the incident as the "worst New Year celebration disaster" in the North West province's history.
The bar is a popular night-spot in the township, often attracting large crowds, but this is the first such incident there, according to reports.