Rwanda puts Nyamwasa and dissident exiles on trial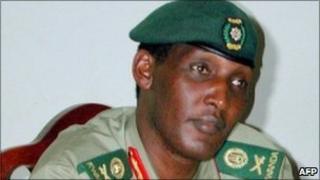 A military court has heard charges against four former top officials who have fallen out with Rwanda's government.
Lt Gen Faustin Kayumba Nyamwasa, Maj Theogene Rudasingwa, Patrick Karegeya and Gerald Gahima were accused of threatening state security and propagating ethnic divisions.
They are currently in exile in either the US or South Africa.
Rwanda denies links to June's shooting of Lt Gen Nyamwasa in South Africa.
His wife said it was an assassination attempt and the incident caused a diplomatic row between Rwanda and South Africa.
Like the others, he was previously a close ally of Rwanda's President Paul Kagame before the pair fell out.
Mr Gahima was Rwanda's prosecutor general, Mr Karegeya was director of external intelligence in Rwanda's military, while Maj Rudasingwa was the top official in the president's office.
The BBC's Geoffrey Mutagoma in Kigali says neither the accused nor any legal representative lawyer was present when the military prosecutor read out the charges.
Speaking in a courtroom where about 20 people listened attentively, the military prosecutor also requested the judge to withdraw the legal rights of the accused, our reporter says.
The military prosecutor also accused them of being involved in creating "a group of criminals" as well as defaming the head of state.
Lt Gen Nyamwasa and Maj Rudasingwa were also accused of deserting the army.
The prosecutor is demanding a 35-year prison term for them while demanding that Mr Karegeya and Mr Gahima serve 30 years.
If convicted, Rwanda's government could seek their extradition, however correspondents say it is unlikely that either the US or South Africa would readily agree to such a request.
Rwanda's government accuses Lt Gen Nyamwasa of links to grenade attacks in Kigali earlier last year and has previously tried to secure his extradition.
Lt Gen Nyamwasa has denied the allegations.
Mr Kagame, in power for the past 16 years, is viewed by many in the West as one of Africa's more dynamic leaders.
However critics have raised concerns about his more authoritarian tendencies and the government was accused of harassing the opposition ahead of elections in August, which Mr Kagame won easily.