Nigeria Senate leader Teslim Folarin on murder charge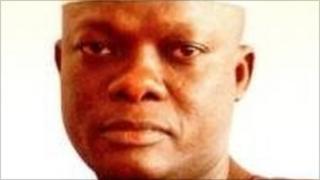 A court in Nigeria has charged the leader of the Senate, Teslim Folarin, with involvement in the murder of trade union activist Lateef Salako.
Mr Salako, a transport workers' union leader, was shot dead during a dispute at a ruling party PDP meeting in the south-western city of Ibadan last week.
Three others have also been charged with his killing.
Senator Folarin, who was present at the PDP meeting, is to remain in custody until a bail hearing later this month.
The residents of Ibadan in Oyo State witnessed violent scenes following a local meeting of the PDP last Thursday.
The BBC's Tomi Oladipo in Lagos says during the chaos, unidentified gunmen killed Mr Salako, who rose to prominence last September when a court validated his leadership of Oyo State's National Union of Road Transport Workers, which had been split for months over a bitter power dispute.
Many of Mr Salako's rivals were unhappy at his appointment and clashes broke out between different factions - and dozens were killed in the violence.
It is believed that being the leader of the transport workers' union, and having the subsequent control over the bus stations in the state, brings greater political influence, our reporter says.
Mr Folarin, a PDP member, has been a senator for Oyo State since 2003.
Elections are due in Nigeria, Africa's most populous nation, in April.