Fourteen killed in Tunisia unemployment protests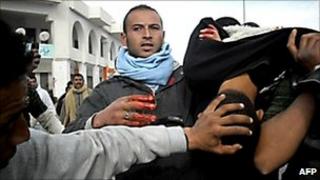 The number of people killed in unrest over unemployment in Tunisia over the weekend has risen to 14, officials say.
The deaths occurred in the towns of Thala, Kasserine and Regueb, in the west and centre of the country.
An interior ministry statement said that in Thala and Kasserine, police had fired in self-defence after rioters attacked public buildings.
The protests first broke out in December over a lack of freedom and jobs.
Tunisia's official news agency Tap said five people had died as a result of clashes in the western town of Thala on Saturday night, and five had been killed in nearby Kasserine.
"Several government buildings in Kasserine were attacked by groups who set fire to and destroyed three banks, a police station and a filling station and set fire to a police vehicle," the statement said.
"The police fired in the air but the crowds continued, and the police acted out of legitimate self-defence."
Four people were killed in Regueb, near the central town of Sidi Bouzid, Tap said.
Protesters say the total number of casualties is higher than officials have admitted.
The leader of the opposition Progressive Democratic Party, Ahmed Najib Chebbi, said he believed at least 20 people had been killed in clashes in the three towns.
Adnan el Ameri, a member of Tunisia's general labour union and a human rights activist, says the protesters have faced a tough response from the security forces.
"The youth were protesting against their social situation and unemployment... but security forces confronted them with brutality and real bullets. Six people were killed in Kasserine, and eight in Thala."
Separately, the authorities have released a rap singer, Hamada Ben-Amor, who was held last week in Sfax after recording a song critical of the government, the rapper's family told Reuters news agency.
'Ceasefire' call
Mr Chebbi called on Tunisian President Zine El Abidine Ben Ali to "call an immediate ceasefire to spare the lives of innocent citizens and respect their right to protest".
The demonstrations began after a man set fire to himself on 17 December in Sidi Bouzid to protest against the police confiscating fruit and vegetables that he was selling without a permit.
He died on Tuesday, while another man is reported to have electrocuted himself as part of the protests.
Demonstrations are rare in Tunisia, where there are tight controls aimed at preventing dissent. The unrest has been linked to frustrations with the president and the ruling elite.
On Friday, the US expressed concern over the government's handling of the demonstrations.
Correspondents say the riots in Tunisia appear to have inspired similar violent protests in Algeria over food prices - forcing the government there to impose a cut on the price of some basic goods.