Sudan referendum: Carnival in south, concern in north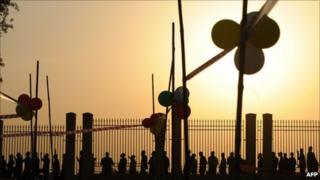 As Southern Sudanese take part in a landmark referendum on whether to secede from the north, BBC reporters describe the scenes in north and south Sudan, as well as London, where Southern Sudanese living in Europe voted.
Peter Martell, Juba
Long lines of people began waiting to vote well before dawn, as Southern Sudanese turned out in droves to decide whether or not to seek independence.
"We watched the light of the sun rise up this morning - the dawn of a new chapter for the south," said Paul Nduru, a teacher who had been waiting from midnight to ensure he was near the top of the queue when polls opened at 0800 (0500 GMT) in Southern Sudan's capital.
"We are happy to wait for this day of history, because we have waited for more than 50 years for the right to choose our own destiny."
First to vote was Southern Sudan's President Salva Kiir.
He voted at a centre erected alongside the grave of the late president John Garang, the former rebel leader who died in an air crash shortly after signing the peace agreement in 2005, which led to this referendum.
Wild roars of joy erupted from the crowd as Mr Kiir arrived, first paying his respects to the fallen leader, before going to a vote in a small booth erected in front of a large crowd.
Groups of women ululated in excitement when he emerged, holding up his ballot paper, before placing it in the voting box.
"This is the historic moment the people of South Sudan have been waiting for," said Mr Kiir, after he voted.
Then, for a moment, he remembered all those who died in the long years of civil war to reach this point, saying that they "did not die vain".
There was a carnival atmosphere, with people waving the Southern flag, as dancers and drummers beat out tunes.
"To freedom, we are going to freedom," one group sang, dancing in a large circle and waving their hands - the symbol for separation on the ballot papers.
"We dreamed of this day, but sometimes thought we would not make it," said Agnes Mathia, who held up her ink-stained finger as proof she had voted.
"There are still many challenges ahead, but today we can enjoy the fact that the referendum voting has finally arrived."
Red and white tape marked out the lines for the queues, with celebratory party balloons tied alongside.
"This is a day like no other in the history of Southern Sudan," said Chan Reec Madut, the deputy head of the Southern Sudan Referendum Commission, the body organizing the vote.
"Everything is in order, and God willing, it will end the same way."
Top diplomats including senior US senator John Kerry also watched the voting from a tent on the side.
"This is the beginning of a new chapter in Sudan," said Mr Kerry. "I'm very hopeful about it."
US actor George Clooney added some Hollywood glamour to the day.
"It is a great day for the world, watching a country vote for its freedom," Mr Clooney said.
But others in the long queues had more sombre memories to dwell on as they waited patiently in line.
"My vote is for my mother and father, and my brothers and sisters who were murdered in the war," said Abraham Parnyang, as he waited to vote.
"I also vote for my children-to-be - if God grants me that - so that they can grow up in a Southern Sudan that is free and is at peace."
James Copnall, Khartoum
In a polling station in the Mayo suburb of the northern capital, Khartoum, a queue was forming: There were only three men in it.
Some 116,000 southerners or people of southern origin registered to vote all over the north - far fewer than was expected.
A similar number have packed their belongings up and headed back to the south in recent months.
Daniel Garang was one of the first to arrive at the polling station, strolling through a small school playground with more children in it than voters.
He voted for separation, then said he was keen to move to his ancestral home.
The future of southerners in the north is a matter of huge uncertainty right now.
One man who voted said he hoped to remain in the north, as his job and family are here.
But if he felt threatened, he said, he would have to leave.
Mayo is one of a string of southern shanty towns ringing Khartoum, which collectively are known as the Black Belt.
Southerners who fled the civil war came here for refuge.
Now, it looks like a ghost town. Many houses are empty, and whole streets seem to have been deserted.
In a space of wasteland edging into the desert, southerners waiting to leave have piled all their belongings up in huge trucks.
Soon they will be heading home.
"I will go to the south after the referendum," says John.
"There is nothing for me here, and no education for my children. It is hard for us southerners."
And he - like many others - did not even to register to vote.
Martin Plaut, London
Just opposite the Houses of Parliament in central London, men and women from south Sudan have been waiting patiently in line at the Central Methodist Hall.
"I'm doing this for the two million who died for this right," said Persilla Nykear, the first person to vote.
Just 653 Sudanese have registered in London even though this is the only polling station for the whole of Europe.
The cost of travel and visa restrictions have reduced the number.
Some were also discouraged because 60% of those who register must vote for the ballot to be recognised.
They were told by their community it was better not to register unless they were certain of voting.
But for those who made it, there were tears and songs of liberation.
Both Sudan and the South are reliant on their oil revenues, which account for 98% of South Sudan's budget. But the two countries cannot agree how to divide the oil wealth of the former united state. Some 75% of the oil lies in the South but all the pipelines run north. It is feared that disputes over oil could lead the two neighbours to return to war.
Although they were united for many years, the two Sudans were always very different. The great divide is visible even from space, as this Nasa satellite image shows. The northern states are a blanket of desert, broken only by the fertile Nile corridor. South Sudan is covered by green swathes of grassland, swamps and tropical forest.
Sudan's arid north is mainly home to Arabic-speaking Muslims. But in South Sudan there is no dominant culture. The Dinkas and the Nuers are the largest of more than 200 ethnic groups, each with its own languages and traditional beliefs, alongside Christianity and Islam.
The health inequalities in Sudan are illustrated by infant mortality rates. In South Sudan, one in 10 children die before their first birthday. Whereas in the more developed northern states, such as Gezira and White Nile, half of those children would be expected to survive.
The gulf in water resources between north and south is stark. In Khartoum, River Nile, and Gezira states, two-thirds of people have access to piped drinking water and pit latrines. In the south, boreholes and unprotected wells are the main drinking sources. More than 80% of southerners have no toilet facilities whatsoever.
Throughout the two Sudans, access to primary school education is strongly linked to household earnings. In the poorest parts of the south, less than 1% of children finish primary school. Whereas in the wealthier north, up to 50% of children complete primary level education.
Conflict and poverty are the main causes of food insecurity in both countries. In Sudan, many of the residents of war-affected Darfur and the border states of Blue Nile and South Kordofan, depend on food aid. The UN said about 2.8m people in South Sudan would require food aid in 2013. The northern states tend to be wealthier, more urbanised and less reliant on agriculture.