Q&A: Tunisia crisis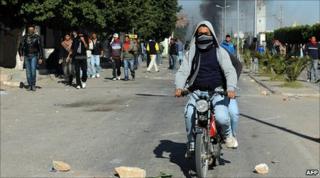 A new unity government is due to meet this week. It was announced on 17 January, three days after President Zine al-Abidine Ben Ali stepped down and fled the country following weeks of anti-government protests and clashes with police. Until recently, the north African nation - a popular tourist destination - had been seen as a haven of stability and relative prosperity, albeit one ruled with an iron first.
What sparked the unrest?
A desperate act by a young unemployed man on 17 December triggered a much wider series of protests and clashes with the police.
Mohamed Bouazizi set fire to himself when officials in his town prevented him from selling vegetables on the streets of Sidi Bouzid without permission.
This set off protests about jobs in the town, which has an agriculture-based economy in one of the poorest regions of the country.
These demonstrations then spread elsewhere, in a move the government said was being exploited by the opposition.
But the violent response of the authorities - with the police opening fire on demonstrators - appears to have exacerbated anger and ignited further protests.
The unrest is also widely seen as drawing on deep frustration with the ruling elite and the suppression of political freedoms.
The clashes became much more deadly on the weekend of 8-9 January, and then spread to the capital Tunis.
The government says 78 people have been killed in the protests.
Were the protests expected?
No, the unrest appears to have taken almost everyone by surprise, including the government.
But it seems as though we have witnessed the breakdown of the tacit compact that has existed since President Zine al-Abidine Ben Ali took power in 1987.
In return for slow but steady economic growth, the majority of Tunisians have accepted restricted political rights, a police state and an elite accused of corruption.
For foreign investors, Tunis has been a safe place to invest and a source of cheap labour.
But this model seems to have failed or maybe it was always unsustainable over the long term.
Large numbers of unemployed graduates, frustration with lack of freedoms, the excesses of the ruling class and anger at police brutality seem to have come together to spark an unstoppable wave of public anger.
Wikileaks revelations last month about corruption within the ruling elite may have exacerbated the situation, analysts say.
How did the government react?
President Ben Ali backed the police action, saying they were protecting public property against a small number of "terrorists".
All universities and schools were closed in a bid to keep young people at home and off the streets.
But then the president changed tack and little by little his long-feared regime crumbled in front of the watching world.
On 12 January, he sacked his interior minister and ordered the release of all those detained during the riots. He also created a special committee to investigate corruption.
There was also a promise to tackle the root cause of the problem by creating an extra 300,000 jobs.
But the unrest continued and reached the centre of the capital on 13 January, despite a night-time curfew.
Mr Ben Ali then promised to tackling rising food prices, allow freedom of the press and internet, and to "deepen democracy and to revitalise pluralism".
He also said he would not, despite the expectations of many, amend the constitution to enable him to stand for office again in 2014.
The following day, Mr Ben Ali announced that he had dismissed his government and called for new parliamentary elections within six months, before declaring a state of emergency.
A dusk-to-dawn curfew has been extended across the whole country, public gatherings of more than three people banned and the security forces given powers to shoot anyone who disobeys their orders.
Mr Ben Ali finally announced on 14 January he was stepping down "temporarily". He then fled to Saudi Arabia with his family - France reportedly rejected a request for his plane to land there.
What happens next?
The constitution says a new presidential election must be held within 60 days.
In the meantime parliamentary Speaker Foued Mebazaa has been sworn in as interim president and has asked Prime Minister Mohammed Ghannouchi to form a national unity government.
Mr Mebazaa said all political parties, including the opposition, would be consulted in the attempt to form a new government, but Mr Ghannouchi angered many protesters when he unveiled the line-up on 17 January, keeping several ministers from the former ruling party in key ministerial positions.
Just a day later, the fledgling government was rocked by renewed protests and the resignation of three ministers from the General Union of Tunisian Workers (UGTT) - Anouar Ben Gueddour, Abdeljelil Bedoui and Houssine Dimassi. It played a key role in protests which ousted the former president.
The newly-appointed health minister, Mustapha Ben Jaafar of the opposition FDLT party, also said he would not take up his position until key posts were no longer held by those associated with Mr Ben Ali's rule.
One of Mr Ben Ali's fiercest critics, CPR party leader Moncef Marzouki, has returned to Tunisia after two decades of exile in Paris. Prime Minister Mohammed Ghannouchi has said another exiled leader, Rached Ghannouchi (no relation to the prime minister), of the banned Islamist al-Nahda party, will only be allowed to return if a life sentence imposed on him for plotting against the state is cancelled by an amnesty.
A BBC correspondent in Tunis says people want confirmation that the interim administration is prepared to bring in widespread economic and political changes.
And the eruption of popular discontent in Tunisia and neighbouring Algeria could make authoritarian leaders across North Africa and the wider Arab region nervous.
Is Tunisia dangerous for tourists?
There have not been any reports of tourists being injured but the violence has spread to the beach resorts.
The UK Foreign and Commonwealth Office has advised British citizens not to travel to Tunisia unless their trip is essential.
The US has issued similar advice, as has former colonial power France, which accounts for the highest number of European visitors to Tunisia.
Tour operators including Thomas Cook and TUI - owner of Thomson and First Choice - have organised emergency flights back to the UK and cancelled new charter flights.
The British government said on 17 January that about 1,000 British nationals remained in Tunisia.