The UK doctor planning to return to south Sudan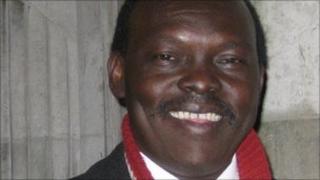 Mayen Achiek is a surgeon and lecturer at Kings College, London but is planning to return to Southern Sudan - one of the poorest areas of the world - where people are voting on whether to secede from the north and create an independent country. He fled Sudan's north-south war 17 years ago when he was a junior doctor.
He told the BBC World Service why he wants to return this year even though he is not sure where he will work:
"I left Southern Sudan because of limited educational resources, and I went to the north of the country.
After finishing my education and qualifying as a medical doctor, it was still difficult. And it was even more threatening during the second civil war [1983-2005].
As professionals, we were easy targets. We fled. We had very limited choices: Either to join the fighting or to go somewhere else to continue the fight as a civilian.
I have practised in Britain ever since. I started by taking a postgraduate training in surgery and got involved in practice and training.
I am a British citizen and I am proud to say that I have had the privilege to live and to escape the dangers of war and to be trained.
I feel I'm lagging behind my peers [in Sudan] in terms of family. I would have loved to have so many children, and I only have four. To us it matters a lot, it matters more than all the money in the world.
It's the war that affected me. Without it I would have had children that would be older now than my 18-year-old daughter, who is a medical student.
'Reverse brain drain'
It feels like this is the right point in time for me to go back. Southern Sudan of course is not a country yet - it's like a big house that is derelict, and therefore talking about finding employment is not easy.
Anywhere in Southern Sudan where I can be useful, I will stay and help. But for me employment is not an issue. I can serve as a volunteer, and I would always survive as a volunteer.
It will be definitely a very different experience. You move from sophisticated institutions like London hospitals to institutions with very modest facilities. It can be a shock to the system.
But at my point of career and training it can be easier. It is the people who make institutions, and it is my strong belief that I can build a wonderful institution around myself that can mimic any institution in London.
There is something like a "reverse brain drain" going on with south Sudanese going back, but it is also about setting a wrong right. Some of us who were educated freely in our country and then had a career also should give something back.
I feel very guilty that I have been practising for the last 10 years as a senior doctor here, while I could have been useful in Sudan - not because I am not grateful to the British people, simply because those need me more than the British.
There is a big teaching hospital in Juba [Southern Sudan's capital], another one in Wau and a third in Malakal, and there are hospitals in other states.
They are not as well established as those in stable countries, but in these hospitals people are working hard and they are very co-operative, and we will definitely sit together, and we'll plan things from there.
'Curse of oil'
It is not a matter of taking along with me equipment or instrumentation, it's a matter of being part of that system first and then starting to ask the right questions.
I would love to take all my daughters back with me. They are children, and I know what is good for them, and it is to take them along with me.
Whatever the system of education we will build, it will be good for all of us to be together. So that people don't feel I am hiding my children somewhere better, where they can get a better education than the rest. They have to learn with the rest.
As a practical person, as a surgeon, I cannot say I am very optimistic with regard to oil revenues in south Sudan.
I am proud that Southern Sudan is a land with a lot of resources we can use, but oil can be a curse.
At my age I know African countries full of oil, but they are full of problems, and they are as poor as the remotest area in southern Sudan.
Both Sudan and the South are reliant on their oil revenues, which account for 98% of South Sudan's budget. But the two countries cannot agree how to divide the oil wealth of the former united state. Some 75% of the oil lies in the South but all the pipelines run north. It is feared that disputes over oil could lead the two neighbours to return to war.
Although they were united for many years, the two Sudans were always very different. The great divide is visible even from space, as this Nasa satellite image shows. The northern states are a blanket of desert, broken only by the fertile Nile corridor. South Sudan is covered by green swathes of grassland, swamps and tropical forest.
Sudan's arid north is mainly home to Arabic-speaking Muslims. But in South Sudan there is no dominant culture. The Dinkas and the Nuers are the largest of more than 200 ethnic groups, each with its own languages and traditional beliefs, alongside Christianity and Islam.
The health inequalities in Sudan are illustrated by infant mortality rates. In South Sudan, one in 10 children die before their first birthday. Whereas in the more developed northern states, such as Gezira and White Nile, half of those children would be expected to survive.
The gulf in water resources between north and south is stark. In Khartoum, River Nile, and Gezira states, two-thirds of people have access to piped drinking water and pit latrines. In the south, boreholes and unprotected wells are the main drinking sources. More than 80% of southerners have no toilet facilities whatsoever.
Throughout the two Sudans, access to primary school education is strongly linked to household earnings. In the poorest parts of the south, less than 1% of children finish primary school. Whereas in the wealthier north, up to 50% of children complete primary level education.
Conflict and poverty are the main causes of food insecurity in both countries. In Sudan, many of the residents of war-affected Darfur and the border states of Blue Nile and South Kordofan, depend on food aid. The UN said about 2.8m people in South Sudan would require food aid in 2013. The northern states tend to be wealthier, more urbanised and less reliant on agriculture.