South Sudan referendum: 99% vote for independence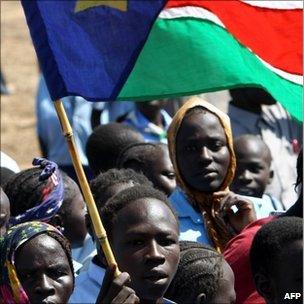 Some 99% of South Sudanese voted to secede from the north, according to the first complete results of the region's independence referendum.
A total of 99.57% of those polled voted for independence, according to the referendum commission.
Early counting had put the outcome of the ballot beyond doubt, indicating Southern Sudan had secured a mandate to become the world's newest nation.
The poll was agreed as part of a 2005 peace deal to end two decades of war.
Final results from the 9-15 January vote, which Sudanese President Omar al-Bashir has said he will accept, are expected early next month.
If the result is confirmed, the new country is set to formally declare its independence on 9 July.
Hundreds of officials and diplomats gathered in Juba at the grave of rebel leader John Garang for the first official announcement of the results.
'The prayer of a country'
The revered South Sudanese leader died in a plane crash just days after signing the January 2005 peace agreement ending more than 20 years of conflict between the black Christian-dominated south and the mainly Arab Muslim north.
"The prayer I say the people of Southern Sudan have been waiting for for 55 years, the prayer of a country," Episcopalian Archbishop Daniel Deng said as he opened the ceremony.
"Bless the name of this land, Southern Sudan," he said.
According to the commission website, 3,851,994 votes were cast during the week-long ballot.
Five of the 10 states in Sudan's oil-producing south showed a 99.9% vote for separation, the lowest vote was 95.5% in favour in the western state of Bahr al-Ghazal, bordering north Sudan, Reuters reports.
North and south Sudan have suffered decades of conflict driven by religious and ethnic divides.
Southern Sudan is one of the least developed areas in the world and many of its people have have long complained of mistreatment at the hands of the Khartoum government.
The BBC's James Copnall, in Khartoum, says independence for the South now seems inevitable.
Our correspondent adds that though the South Sudanese are celebrating that their dream of having their own country is a massive step closer there are still issues to resolved - including underdevelopment and inter-ethnic conflict.
Tough negotiations remain on how to divide up economic resources between north and south - which has the bulk of oil, he adds.
Related Internet Links
The BBC is not responsible for the content of external sites.