African Union backs Kenya call to delay ICC case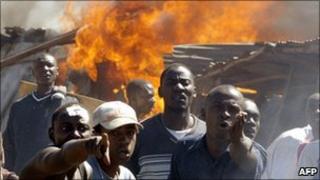 The African Union has endorsed Kenya's request to delay the International Criminal Court trial of those accused of organising post-election violence.
Kenya says it wants the six suspects named by the ICC to be tried at home.
It had failed to set up a local tribunal to investigate the 2007-8 clashes but says it will now do so.
As the AU ended its summit, its new chairman, Equatorial Guinea's President Teodoro Obiang Nguema, also dismissed criticism of his human rights record.
"My country is democratic and holds elections. In presidential elections the people are free, they choose the candidate they want," he said.
Human rights groups accuse his government of rigging election, oppressing the opposition and corruption and say he should not have been chosen to lead the AU for the next year.
The AU also extended the mandate of Somalia's parliament by two years, meaning it can choose a new government when its term expires in August.
'National sovereignty'
The six Kenyans who the ICC wants to put on trial are mostly very senior politicians - allies of both President Mwai Kibaki and Prime Minister Raila Odinga.
They include Deputy Prime Minister and Finance Minister Uhuru Kenyatta, the former police chief and two ministers.
Last year, Kenyan MPs voted to pull out of the ICC after the six were named.
President Kibaki said that having the trial in Kenya "will boost our efforts [for] peace, justice and reconciliation as well as uphold our national dignity and sovereignty; and prevent the resumption of conflict and violence".
Some 1,200 people died and more than 500,000 fled their homes in the violence following the disputed election in December 2007.
It ended when President Kibaki and his rival Mr Odinga agreed to share power, with Mr Odinga becoming prime minister.
In the peace deal they signed it was agreed perpetrators would face justice in Kenya or at the ICC in The Hague.
The AU also wants the ICC to defer its attempts to prosecute Sudan's President Omar al-Bashir over alleged war crimes committed in Darfur.
Some African leaders have accused the ICC of ignoring war crimes elsewhere in the world and only going after suspects in Africa.
AU Commission Chairman Jean Ping accused journalists of harassing President Obiang at a news conference after the summit.
Mr Obiang seized power in oil-rich Equatorial Guinea from his uncle in a 1979 coup.
In 2009, he was re-elected with 95% of the votes.
He has previously denied charges of corruption and human rights abuses.
In his acceptance speech on Sunday, Mr Obiang said: "The concept of democracy, human rights and good governance are not new to Africa, but they should be adapted to the African culture."
But Alioune Tine, from the Senegal-based African Assembly for the Defence of Human Rights (Raddho), told the AP news agency:
"Neither the African Union, nor Africans, deserve a leader whose regime is notorious for abuses, corruption and a total disregard for the welfare of its people."